What is the difference between a receipt and an invoice?
There are two key differences between an invoice and a receipt: how they're formatted and their purpose. An invoice is for requesting payment while a receipt proves a payment was made.
Every company needs processes in place to document every transaction made. Not doing so can hinder your business from running smoothly and could make tax time harder than it needs to be. Creating invoices and receipts will help you quickly identify what your business is owed and what has been paid.
Without these documents, it would be challenging to work out taxes due, forecast business budgets, and keep an eye on how your business is performing.
This article will cover the key differences between receipts and invoices, including some of the important ways they serve businesses and customers.
What is an Invoice?
An invoice is a document that requests payment for any goods or services rendered by a business. An invoice is sometimes referred to as a bill of sale. Apart from being used as a formal request for payment, an invoice is pertinent in the accounting process as a tangible record of work rendered. 
Invoices are:
Used to request payment
Issued before collecting payment
Not necessary in every sale type transaction
Used as a prompt or heads up for how much is owed on goods or services
Not to be used as evidence of payment confirmation
Many types of invoices are issued in different circumstances and industries.
For example, a proforma invoice is a type of invoice usually issued before an official invoice. This type of invoice holds no legal status as a request for payment document but does give the buyer an idea of the costs of the goods or services.
Another invoice type is the commercial invoice, used in international trade as an important customs document. It is one of the most important documents for international shipping.
There is no difference between billed vs. invoiced. They mean the same thing: that money is owed to a company by a customer.
When is an invoice used?
An invoice is issued once an agreement has been made between a buyer and a seller for the sale of goods or services.
If an order has been made for goods, an invoice may be issued before the goods are received by the buyer or at the same time. If a service is rendered, an invoice is commonly issued just before or directly after the service is completed.
An invoice can be issued physically in paper form or digitally through email. Sometimes a physical copy of an invoice is mandatory.
For instance, these days, the use of automated invoicing software is making invoice creation, issuing, and approvals much more streamlined.  Once an invoice has been issued to a buyer, it is their responsibility to submit payment as per the payment terms listed on the invoice.
How do you format an invoice?
There are no official standards on how to format an invoice template. However, some specific features need to be included that highlight some important information about an ongoing transaction. A typical invoice should include:
Business name and logo,
Your business contact details
The customer's or businesses contact details
A unique invoice number
The date the invoice was issued or created
A detailed list and description of all purchased goods or services,
Allocated price and quantity of goods or services
The total amount owed, with included taxes and fees.
Payment terms, including the payment due date
What payment method should be used, and in what currency
Bank account details and account name
Now that you have a good understanding of the concept of an invoice, it's time to take a look at receipts and how they're different from invoices.
What is a Receipt? 
A receipt is a document that is used as proof of payment. Commonly, you will also hear them referred to as payment receipts or sales receipts.
Receipts are:
Issued after payment has been made
Used by a business or customer as proof of payment or to verify a purchase has been made from another business
Mandatory in some countries for every purchase above a certain purchase price
Usable as evidence in legal proceedings as a record of sale
One of the main purposes of a receipt is payment verification. For example, receipts can be used to verify a purchase for a refund, goods when exchanging goods, or to take advantage of a company warranty policy.
They are also important documents for accounting and legal purposes. Generally, the most important details on a receipt are the date, amount paid, and product information.
Receipts can be issued as physical paper documents or electronic receipts. An electronically issued payment receipt is usually sent to a customer's email, through an online messaging service, or through in-app notifications from your bank.
Digital receipts are becoming more popular, especially among e-commerce businesses, because they're more convenient as they are easier to store. Online receipts also make keeping track of services purchased or goods purchased easier.
When is a receipt used?
Receipts are only issued after a payment has been made. In brick-and-mortar businesses, receipts are issued on the spot and handed over to the customer once a customer pays. Sometimes receipts can be issued ongoingly as part of an outstanding formal agreement if full payment is not made in one go.
For example, in instances where a payment plan is set up, with either variable or fixed amounts due on different dates. In these types of agreements, a receipt should be issued after every payment has been received and cleared. This process is the same for direct debit arrangements, especially in subscription-type services.
Usually, in these types of arrangements, digital or electronic receipts will be issued around the pre-arranged payment schedule date.
How do you format a receipt?
Like an invoice, a receipt can be formatted in many ways with no official standard. There are key details that must be included though, to make sure a customer has all the details they need in case they need to use the receipt for a refund or in a warranty agreement.
Business name and logo
Contact information
The exact date of a sale or service
A list of the sold products and services
The prices of each product or service sold
Included discounts, coupons, or promotions added
The total amount paid
Any added or included sales or service taxes
Any additional fees
The confirmation status of the transaction (approved, declined, not authorized, authorized)
As you can see, an invoice and a receipt share some similar details, but the details while serving very different purposes.
Receipt and invoice examples
There's no single way to create an invoice or receipt, but if you aren't sure where to start, seeing some examples may help. We've put together this illustration of a receipt and an invoice to give you an idea of how to create both.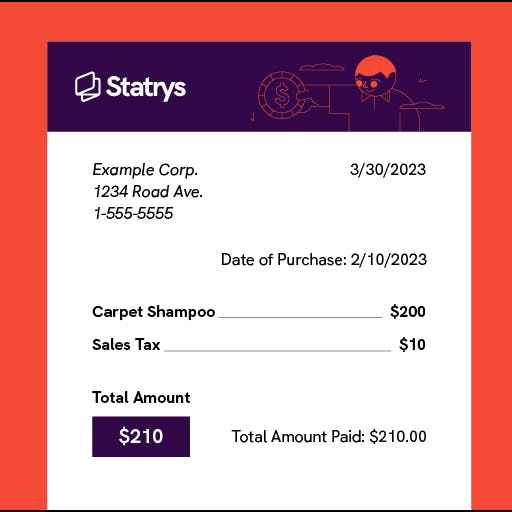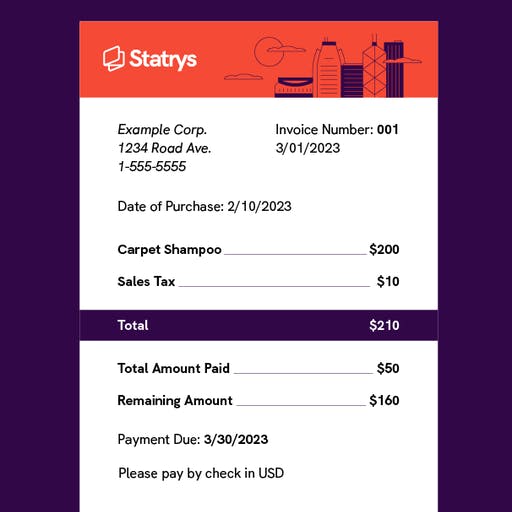 There are many invoice and receipt software options out there, including free invoice generators. Or you can create a template on your own that works perfectly for your business.
Invoices and receipts serve equally important purposes in the sales of goods and services. An invoice is useful to collect a payment, while a receipt is useful to prove a payment.
In business-to-business transactions, it is essential to have well-organized invoicing processes and properly formatted invoices, followed by a solid receipt issuing process. This can help ensure your invoices are being paid while preparing your finances for tax time.
FAQs
Can an invoice be used as a receipt?
An invoice cannot be used as a receipt. It is also important that invoices not be issued after a payment has been made. An invoice must always be issued to a customer before a customer pays any amount owed. Certain types of invoices can be issued after a payment has been made. A credit invoice can be issued to provide a refund to a customer in exchange for credit at the business where a purchase was originally made.
Which comes first, a receipt or an invoice?
Is an invoice the same as a receipt?
Should I use an invoice or a sales receipt?