Receipt book is a physical or digital record that serves as proof of purchase, tracks transactions, and provides evidence in case of disputes.
Include essential information in a receipt book such as date of the transaction, customer's contact information, product or service purchased, price, and applicable taxes or fees.
Be consistent in record-keeping - use the same format and style for each entry to maintain accuracy and organization.
With the introduction of invoicing software revolutionizing the accounting sector, you may think that receipt books are a thing of the past. Although digital receipts are becoming the more popular way to issue receipts to customers, receipt books are still readily available and as valid as ever.
Some industries still require a physical receipt to be issued for several reasons. If you are thinking of setting up a new business or are an existing business looking to change your receipt handling processes, this article will cover all there is to know about receipt books.
What Is a Receipt Book?
A receipt book is a book filled with pre-written receipt form templates that are ready to be filled out by a business when a customer pays for goods or services.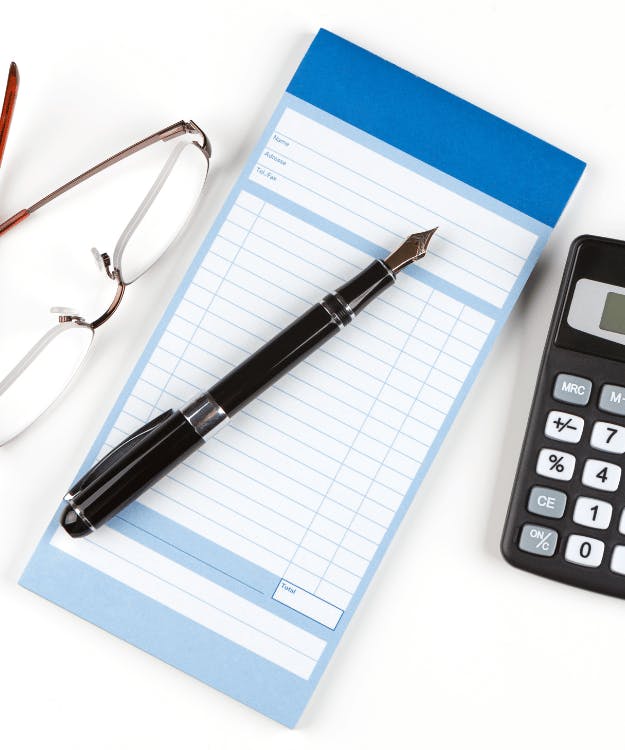 The typical receipt book pages will consist of 50 to 200 sets of individual receipt templates that include two different colors for each receipt template.
The standard colors used in receipt books vary between white and yellow or white and blue. Each color differentiates which receipt the business fills out and keeps after purchase, and the other is the receipt copy for the customer.
Why It Is Important to Keep a Receipt Book?
Receipt books are useful as a manual way to track business expenses, as well as save money on paper and ink as the receipt book templates are already pre-written.
Physical receipt books are still used today in many industries to provide customers with physical proof of purchase directly after they have made a payment.
Each receipt template in a receipt book will have a spot to fill in a receipt number. You can find receipt books at any good office supply store or buy them online.
What Are the Differences Between an Invoice and a Sales Receipt?
An invoice is used to request a payment from a business or individual customer for goods or services purchased, while a receipt is proof that a purchase has been made and confirmed.
💡Tip: Check out an invoice definition and see how you can create your free invoice template for your business.
How to Fill Out a Receipt Book?
Understanding how to write a receipt or fill out a receipt book is a crucial part of maintaining accurate records and managing your business finances effectively.
When you need to fill out a receipt book, it is essential to include the following information:
1. Date of the Transaction
Include a transaction date when you fill out a receipt book to keep a record of the payment made or receive specifically.
2. Contact Information
Write down the information of your customer such as name, address, and contact number.
3. Description of Products
Provide details of the products that your customer purchase including size, quantity, color, and more.
4. Price
One of the major components when filling out a receipt book. Make sure to separate the subtotal and grand total.
5. Applicable Taxes or Fees
There can also be additional expenses in a receipt book such as applicable taxes or fees, which you need to make sure to add them correctly.
An example of how you can fill out a receipt book:
| | | | |
| --- | --- | --- | --- |
| Product | Color | Quantity | Price ($) |
| Books | Red | 4 | 100 |
| Table | Green | 1 | 150 |
| Chair | Yellow | 3 | 100 |
| Subtotal | - | - | 350 |
| Tax (15%) | - | - | 52.5 |
| Delivery | - | - | 2.5 |
| Grand total | - | - | 405 |
Which Copy Goes to Whom in a Receipt Book?
When you make a purchase, you usually get a piece of paper called a receipt. The one on top, which is given to you, is called the original receipt (thermal paper) and it's usually white. The business keeps a copy of this on yellow paper, which is called the duplicate or carbon copy.
There are also carbonless receipt books that have been specially treated to transfer the contents of the first page onto the second page.
There are a few types of receipt books based on the industry a receipt needs to be issued.
💡Tip: In the real estate industry, you can get a rent receipt book, while for the sale of general goods or services, there are sale receipt books.
Where Are Receipt Books Commonly Used?
Receipt books used to be one of the primary tools that businesses used to record and issue a receipt to a customer. These days, Point of Sale (POS) systems and other receipt processing technology automatically generate receipts which has removed the immediate need for a business to fill out receipt book templates manually.
Some common places where you will find receipt books being used are small businesses, like coffee shops, salons, retail stores, food stalls, and more.
Receipt books can also be used for tax and accounting purposes, as they help businesses keep track of their income and expenses. It comes in handy for businesses that need to issue receipts on the spot, without relying on electronic systems or printers.
Tips for Filling Out a Physical Receipt Book
Let's go through some tips for how to fill out a receipt book manually.
Always do two copies when a customer makes a purchase. One will be for you to keep as a record of sale, and the other is for the customer as proof of purchase
Always use black or blue ink, as pencils can easily be erased and altered.
Make sure each manually filled-out detail is legible to you and to the customer
Always sign each copy of your issued receipt
If you don't have a receipt book handy, you can also make your own receipt book by creating receipt templates on a computer using software such as Microsoft Excel. These templates can then be filled out in times of need.
You just need to remember that you'll always need to print out duplicates so that you and the customer can have a copy each.
How Detailed Should a Receipt Template Be?
When you make your own receipt book template, the details you should include will vary depending on what goods or services your business sells. For example, for non-refundable, one-time purchases, receipt templates will only need to include the basic details that are required for a receipt to be valid.
Important Details Included on a Receipt
There is no standard format for how a receipt should be set up. However, for a professional-looking receipt, you should include at least the following details:
Business name and business address
Company phone number or email
Payment date and time
Transaction number
Additional fees or sales tax
Brief description of the product/s or service description
Payment method (cash, cheque, or credit/debit card)
You may notice that in most instances, modern receipts printed from a Point of Sale (POS) system will include more details than this.
Bottom Line
Unless you have an e-commerce business model only, having a receipt book on hand can be useful in times when digital receipt technology fails. Even if a customer does not request a receipt after making a purchase, it is always good business practice to provide a record to them of their purchase.
FAQs
Are receipt books still relevant today?
Yes, receipt books are still used and relevant today, even with the advancements in invoicing and POS systems. It is always good for a business with a brick-and-mortar setup to have a receipt book handy in case any of its receipt processing technology fails.
Is it legal to make your own custom receipts?
Is a handwritten receipt still legal to provide?
Are bank statements or credit card statements proof of receipt?
Are digital receipts or physical receipts more valid?