How To Become a Reseller in 2023: A Beginner's Guide
1. Register Your Business and Obtain Necessary Permits
3. Decide on Your Sales Channels
4. Start Marketing and Selling
If you've always wanted to be an entrepreneur but don't have an idea for a new product that will change the world, reselling could be a viable business opportunity for you.
Reselling is big business. In the United States alone, the used merchandise industry is worth nearly $6.1 billion. It's a great way to get rid of things you don't need and it can help you learn more about an industry you want to be part of.
The work can be done full or part-time and doesn't necessarily require a large amount of money to start. 
Do we have your attention yet? Read on for more information on how to become a reseller who sells online.  
What Is Reselling?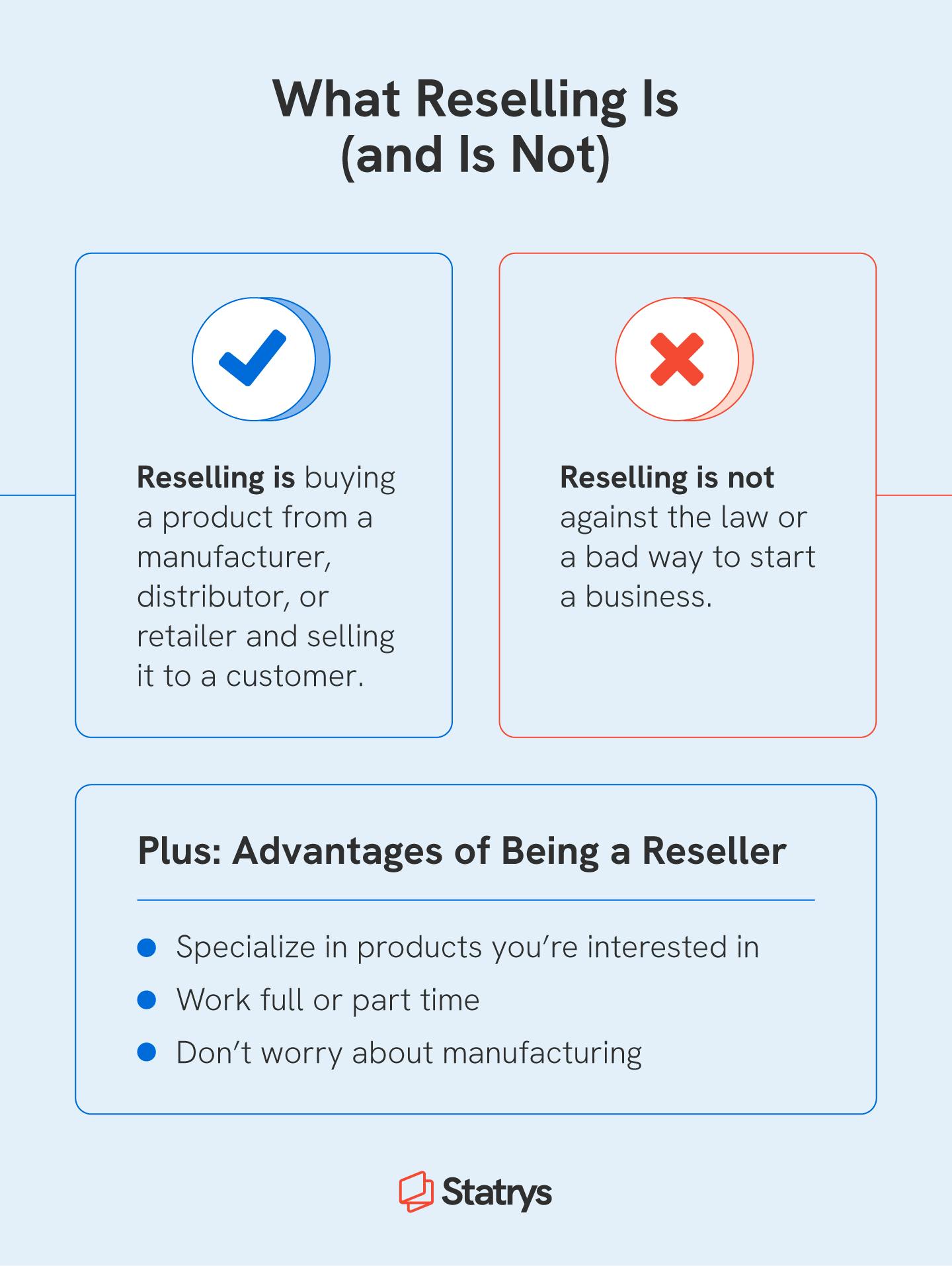 A reseller is someone who buys a product from a manufacturer, distributor, or retailer and sells it to a customer.
Think of any business that sells items from more than one brand — they're technically a reseller, whether they're a big-box store or a dropshipper.  
What sets some resellers apart from retailers is that instead of taking a generalized approach to carry many kinds of goods, a reseller might focus on and specialize in one type of product.
For example, a reseller might only sell blue jeans from two or three luxury denim brands instead of carrying many kinds of clothing.
 Being a reseller also comes with some distinct advantages not available to other types of companies, such as:
Some resellers can buy items tax-free from suppliers.
Resellers don't have to worry about developing or manufacturing anything.
Resellers can offer products to consumers that used to only be available to wholesalers.
It isn't going to be an easy ride, though. Supply limitations and minimum order requirements from suppliers and manufacturers can pose a problem to resellers whether they're just starting out or if they've been in business for years.
Exclusivity agreements are another hurdle you may have to navigate if you want to buy and resell new merchandise.  
Advantages and Drawbacks of Becoming a Reseller
Pros ✅
Cons ❌
Can buy goods tax-free
At the whim of manufacturers
Specialize in an industry or segment of an industry
Exclusivity agreements may prevent you from selling in certain places
Don't have to develop or manufacture anything
Minimum orders can be very expensive
Provide items to customers that used to be exclusive to wholesalers
4 Steps To Become a Reseller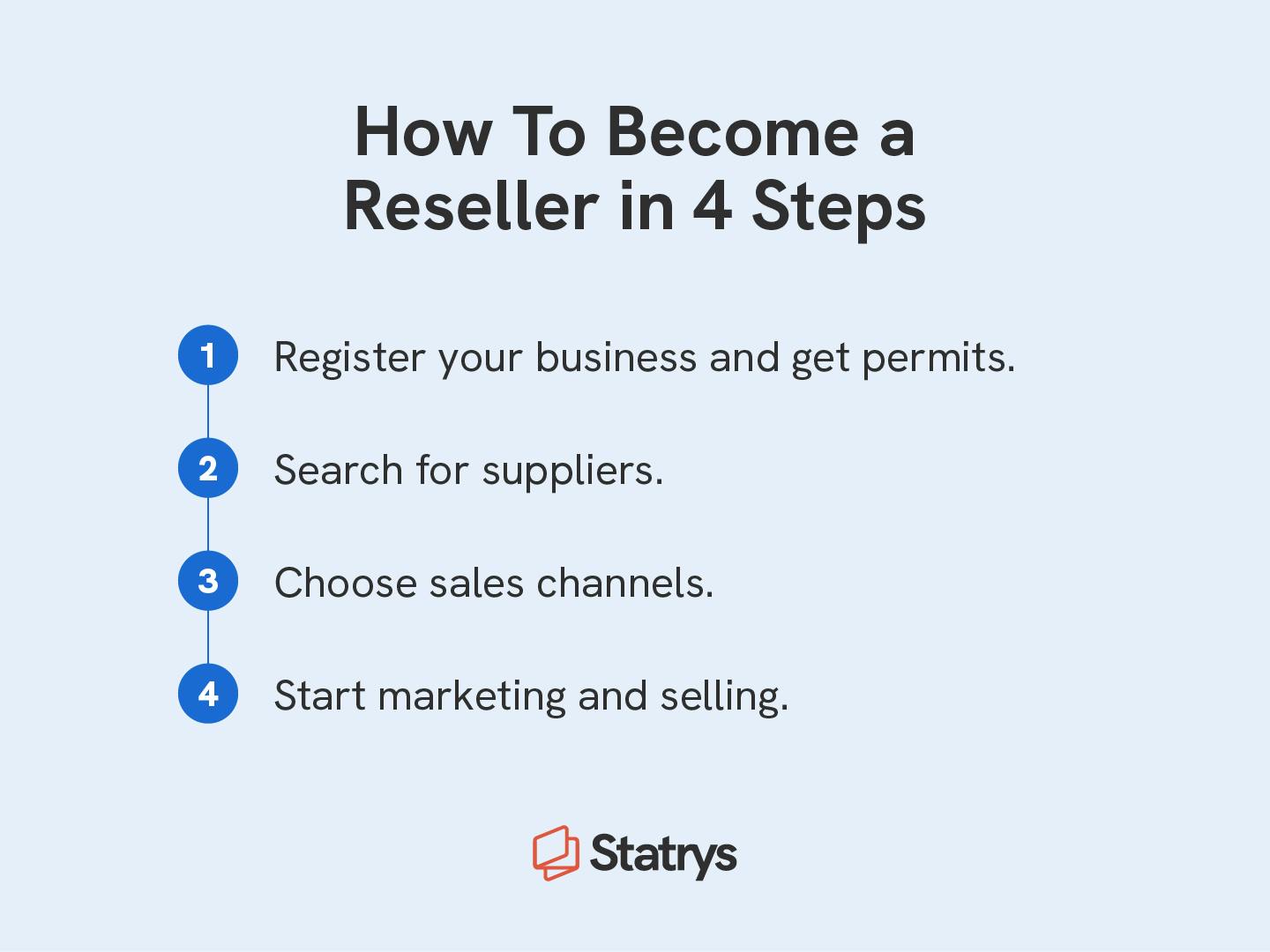 Want to learn how to start a resell business? Becoming a reseller is similar to opening any retail store because that's essentially what it is.
In the next few sections, you'll see where the subtle differences between other retailers and resellers come in and how you can use them to your advantage.
1. Register Your Business and Obtain Necessary Permits
Like any other business, you'll need to register and license your business.
In some countries, this is all done through the federal government, while others will have to go through local, county, state, and federal agencies for all required permits and licenses.
Federal requirements vary by country, but most governments will require you to be licensed so you can pay taxes and your employees. 
To conduct business in most states, you'll need:
The normal business license that any business needs 
A reseller's license (in some states), which can actually be good news for you because it proves to suppliers and manufacturers that you can buy from them tax-free 
Licenses for each state where you're selling (possibly), but it's a good idea to check with those states to find out for sure 
2. Find Suppliers
Finding suppliers for your reselling business can be one of the most difficult parts of getting your company started, but it should also be one of the most fun and interesting.
Even if you're already something of an expert in the field, getting to see how things run should be a fascinating glimpse into your new industry.
Generally, there are three main ways of finding goods to sell: 
Buying directly from manufacturers
Buying from wholesalers
Buying previously owned items 
There's really no rule of thumb as to which is better, but there are some pros and cons to consider for each. And it's important to remember your margins and your ability to keep items in stock. 
Manufacturers
Pros ✅
Cons ❌
No middleman markup
May require larger orders
Can buy tax-free
They may not work with resellers
Wholesalers
Pros ✅
Cons ❌
They may work with brands you can't buy directly from
You pay a markup
Lower minimum orders compared to manufacturers
Can buy tax-free
Previously Owned
Pros ✅
Cons ❌
Costs may be lower
Supplies are limited
Lower amounts of inventory mean lower overhead costs
Quality may not be the best
May not be able to buy tax-free
Whether you're sourcing products from manufacturers in China or you're buying from a supplier in your hometown, once you have products, you'll need a way to sell them.
3. Decide on Your Sales Channels
Your sales channels are the ways you'll get products to your customers. That can mean becoming an online reseller with an ecommerce store, a brick-and-mortar location, third-party sites, or dropshipping partners. 
Similar to suppliers, there is really no rule of thumb as to which is better, but there are a few pros and cons to bear in mind about each.
Ecommerce Store
Pros ✅
Cons ❌
Free or affordable to start
Can be difficult getting customers
Allows you to sell from your home
May require significant investment in ads and content marketing
Lets you partner with dropshipping companies
Can sell worldwide
Physical Storefronts
Pros ✅
Cons ❌
Great for branding
Overhead is expensive (rent, utilities, insurance, etc.)
Highest margins
May require employees
Can only sell in these locations
Third-Party Sites
Pros ✅
Cons ❌
Large user bases
You pay the site for every item you sell
Buyers trust these sites
You are at the mercy of these sites' policies
Usually free to start selling
May provide you with access to discounted postage and shipping materials
Dropshipping Partners
Pros ✅
Cons ❌
You don't have to store or ship goods
You don't have to handle returns
You pay more for every order
Per-order frees and order minimums can add up
The expectations customers have about how they buy your goods will be a deciding factor in which option you choose, but don't be afraid to take a risk and try something different if you have the data to back up your decision. 
4. Start Marketing and Selling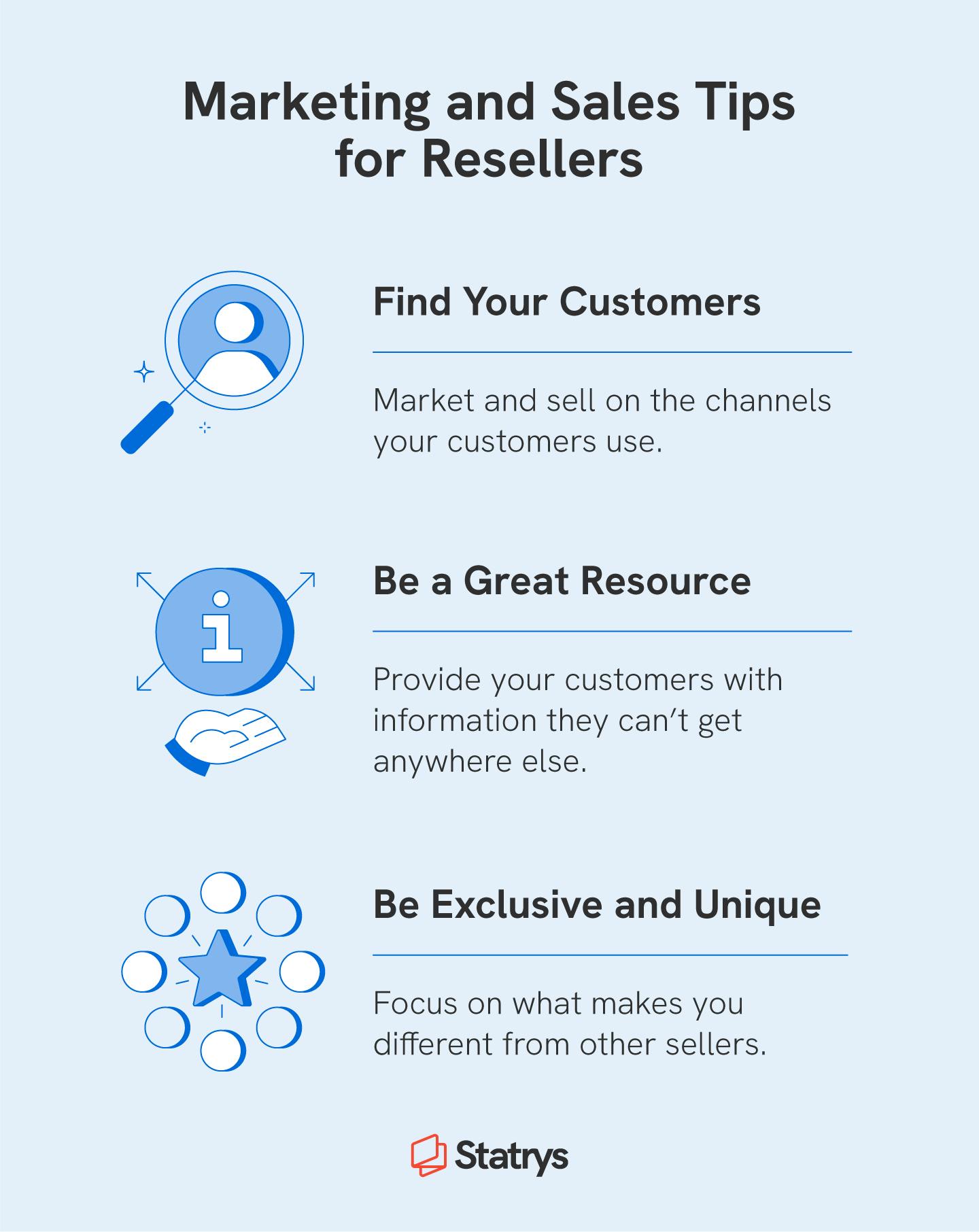 Marketing any business can be one of the most confounding and expensive parts of operating.
Luckily, there are more options for getting your name out there than ever before. 
Before you start marketing, it's important to identify which channels you're going to use and which ones you're going to avoid.
If you're selling cutting-edge electronics, for example, you probably don't want to devote a lot of money to advertising in newspapers. 
The best channels are the ones your customers are using, so ask yourself these questions to get an idea of where to start:
How do I learn about these products? If you're plugged into the industry as a consumer, think about where you go to stay on top of the latest news and information.
What are my competitors doing? Look at how other resellers and retailers market their products to inform your strategies.
Can I do something different? Setting a marketing strategy is great, but setting two strategies and then comparing them? That's how you really hone in on what works and what doesn't.
As a reseller, you can offer a lot of things that manufacturers and big retailers can't.
As a specialist, you know your products in ways that others don't, so lean into that expertise in your marketing, sales, and customer communications. 
Provide regular roundups of the latest trends and forecast what's coming up next. You can do this on your blog or social media. It shows shoppers that you understand what they're looking for and that you understand why what you sell is important to them.
Lean into uniqueness and exclusivity. Tell shoppers about what makes your selection one of a kind. Maybe you've got goods that are exceptionally hard to find because they're vintage, or you have an early supply of the latest and greatest. 
Always remember to keep an eye on your margins. They can make the difference between success and failure. When you're determining your margins, make sure you account for everything that costs you money, including:
Product costs
Shipping costs
Packaging costs
Overhead costs
Employee costs
By using your margins as the barometer of your business's health, you'll be more likely to make decisions that keep your business afloat.
Where To Find Resale Suppliers
Ready to start finding your resale suppliers? These tips will provide you with everything you need to begin your search in earnest. 
Ask for referrals: Check with professional networks in your industry to see who people recommend (and who they caution against). Because other people in your industry are immersed in the field, they'll know what's going on right now.
Check product sourcing sites and apps: The internet makes finding suppliers easy. There are entire sites and apps devoted to connecting you with suppliers and manufacturers. Some of the most popular include: Haulsafe and Faire
Use dropshipping services: Dropshipping services can solve a lot of problems that you may not otherwise be able to solve on your own. These companies have the warehouse space, the knowledge, and the staff to receive goods, inventory them, and ship them out to your customers accurately and quickly.
Here are a couple of dropshipping services that work with resellers: SaleHoo and Wholesale Central
8 Reselling Business Ideas
Interested in becoming a reseller but aren't sure exactly what you'd like to sell?
We put together a list of some of the most popular items to resell. If any of these pique your interest, start digging a little deeper until you find your niche.
1. Clothing and Shoes
Clothing and shoes are some of the most popular (and potentially profitable) resale businesses. The worldwide value of the secondhand clothing industry alone is to expected to be $218 billion by 2026.
Find a specialty to become an authority and seller with access to what everyone wants. Here are a few niches to explore:
Sneakers
Vintage clothing
Sports clothing (jerseys, hats)
Denim
2. Pet Food, Supplies, and Toys
Everyone loves their pets, and that means that they're willing to spend money on them. A lot of money, in fact: the value of the pet industry was more than $120 billion in the United States alone in 2021.
Want to find a way to stand out in a potentially crowded market? Think about some of these options:
Natural foods and treats
Toys for specific animals
Specific animal-focused stores (e.g., cats, dogs, fish)
3. Consignment
Consignment is a type of reselling where you take care of the legwork of listing and selling an item for someone else and take a commission when it sells.
You can set up an online store to sell consignment, a brick-and-mortar shop, or you can sell on auction sites like eBay. A few of the most popular consignment markets are:
Vintage clothing
Collectables (comic books, records, toys)
Sports memorabilia
4. Cosmetics and Beauty Supplies
If you want to help people find ways to make themselves look and feel beautiful, cosmetics and beauty supplies are a great idea. The overall industry was worth more than $93 billion in 2022, which shows how important these products are to people.
A few ways of getting these products to your customers include:
Subscription boxes for men and women 
General cosmetics and beauty supply shops
Focus on one need, like a store that sells age-defying products
5. Automobile Accessories
Cars are big business, and so are car accessories.
People love to customize the inside of their cars to make them more stylish and comfortable, which gives you an opportunity to grab some of the estimated $16.1 billion spent in the industry each year.
Looking for ideas of what to sell? Consider these options: 
Comfort accessories (seat and wheel covers, floor mats, sun shades)
Other accessories (garbage containers, cupholders)
Audio accessories (phone docks, speakers)
 6. Electronics
People all over the world spend a ton of money on electronics.
As a reseller, you can occupy a unique place in the market. Whether you want to be an electronics seller who carries a little bit of everything or you want to be the source of one kind of gadget, the options are nearly endless. Some popular electronics for resale include:
Cameras
Audio equipment
Video games
Selling electronics gives you the opportunity to be on the leading edge of technology or to specialize in selling older technology that is still in demand.
7. Subscription Boxes
Subscription boxes are another popular thing to resell.
Subscription boxes can be a one-size-fits-all kind of package or a singular box designed specifically for one person. These services are found in many industries, and some of the most popular include:
Toys
Clothing
Pet supplies
Cosmetics
Recurring revenue can help you expand your product offerings by bringing on new suppliers or by adding a la carte items
8. Dropshipping
With dropshipping, you can pick from one (or many) kinds of product and then have the orders fulfilled and shipped by another company.
Depending on the drop shipper, they may also be the supplier or manufacturer, so it can be one of the easiest ways to start reselling.
With dropshipping, you can be as focused or as general as you want in terms of what you sell.
📖 Want to learn more? Here's a comprehensive guide on how dropshipping works in 2023
3 Tips for Reselling Success
Like any business, successful reselling is about offering something consumers want at prices that let you make enough money to keep buying and selling more.
The following tips are focused specifically on ways to improve your chances of success as a reseller.
Make Your Products Look Great
Your website is a customer's first impression, so make sure it's a good one! How do you put your best first forward? 
Professional product photos: Your manufacturer or supplier should have high-quality photographs that you can use as an authorized reseller. If they don't, it's up to you to spend the time and money making your items look as desirable as possible. The value of these photos goes beyond a product page photo — you're also going to need them for marketing purposes, so you need to have a variety of pictures that you can use for different purposes.
A well-designed website and marketing materials: Today, there's no excuse for having a website that doesn't look and function well. The most popular ecommerce platforms can set you up with a clean and easy-to-navigate site in minutes. The same goes for your marketing materials. There are apps out there to edit photos, add text, and schedule your digital marketing efforts. If you don't feel comfortable doing the work yourself, look for freelance designers with a proven track record of delivering great assets on time. 
Branded packaging: It's a small touch, but when your customers receive their items (in-store or delivered to their home), the packaging should make them feel almost as excited as what's inside it. Custom-designed packaging can be bought in bulk, will make customers feel special, and help get your brand out there.
Ship Your Products Quick
No one wants to wait for something they ordered. In fact, 22% of people will abandon a cart just because the seller doesn't offer fast shipping.
📖 Read more on the top reasons for cart abandonment.
While that might not seem fair, there are ways to overcome this potential pothole.
Use a dropshipping company: These companies have the infrastructure to handle everything from receiving your items to shipping and dealing with returns. While you do end up paying for that expertise, if you don't have the space to store all your goods or you don't have the budget for an in-house shipping team, it could be the only feasible solution.
Have a dedicated shipping team: Having shipping items in-house is the best way to ensure that the process meets your standards and expectations, but it does come with some drawbacks. In-house shipping requires a lot of space for storage, receiving, and packaging orders. It also means paying people directly and ensuring there are enough supplies on hand to ship as orders come in.
You'll have to consider the pros and cons of each approach. It's also a good idea to reevaluate your needs and options as time goes on and your business grows.
Dropshipping might be the best way to get a business on its feet, but if you start making solid sales, you may be able to ship in-house for less.
Always Keep Your Margins in Mind
As a reseller, your margins are just as important — if not more important — than they are for other kinds of retailers.
The market can shift quickly, so you need to be prepared to get more products in stock quickly, but you also need to make sure you aren't stuck with too much product that isn't moving after tastes shift.
Here are a few ways to improve your margins:
Look for alternate suppliers that sell at lower costs. Sourcing from China or other countries can help you keep costs down.
Expand or shrink your offerings based on what's working (or not working). If you have a steady seller that is the majority of your business, consider buying more to get a better deal. Drop products that aren't moving.
Consider using a different dropshipping company or shipping in-house. Shipping costs add up, so take the time to double-check your options for packing and delivering your items to customers.
Look for extra sales channels. Need more money coming in? Find out how to become a reseller on Amazon or other marketplaces to expand your customer base.
Now that you've got an idea of what reselling is and how to become a reseller, it might be a good time to start thinking about building your own ecommerce store to start selling your products.
Setting yourself up with the right ecommerce tools can help grow your business, lower your costs, and keep you more productive, so spend some time researching the best ways to optimize your processes. 
FAQs
Is being a reseller profitable?
It can be. It depends on many factors, including the location of the business, what the business is selling, how saturated the market is, and what costs are cutting into potential profits.
Who qualifies as a reseller?
How much does it cost to start a reselling business?
 Do resellers have to pay taxes?
 Is it legal to resell products?
What is the best way to learn how to become a reseller online?