Sure, you have a great business idea, and maybe you've even gotten a business license and started building an online store to bring it to fruition. But do you have what it takes to run that business? While there is no set recipe for how to be a successful entrepreneur, there are several strategies you can try — and we've tapped those who've been there and done it before to help. 
Their top tips include:
Now, let's make you a successful entrepreneur.
1. Follow What Makes You Excited
If you ask any entrepreneur what made them want to strike out on their own and open their own business, nearly every one of them will tell you that they were excited about the industry or the idea of doing things their way.
If you've had an enduring passion for something and you've long thought about what it would be like if you could spend your time pursuing that passion, you have the foundation to be a successful entrepreneur. While many outside forces can affect your progress, your passion and perseverance may be exactly what you need to weather a lot of obstacles.  
2. Get Tips From Entrepreneurs 
There's no shortage of ways to get information about being an entrepreneur from other entrepreneurs. 
Books: The business section in your local bookstore is full of great titles. 
Blogs: Regularly updated blogs written by entrepreneurs can be a gold mine of great advice.
Groups on social media sites: A quick search on social sites should help you find some great groups where you can connect with others. 
Podcasts: Not sure who you should learn from? Check LinkedIn to learn more about the thought leaders in your industry, then open up your favorite podcast app to find a few that jump out at you. 
Sometimes the most valuable information will come from sources you might not think would apply to your business. Many of the people recording podcasts and writing books are talking to entrepreneurs of all kinds, so go in with an open mind.
Successful Entrepreneur Quick Tip
"There are so many people out there who are willing to share their experiences and help you learn from them — whether it's through books or podcasts or events — just find the ones that speak to you!" — Gauri Manglik, CEO and co-founder, Instrumentl
3. Keep Your Costs Low
One of the most critical success factors for any business is the ability to keep operating costs low. As a new business owner, you may not have the capital to hire every single person you need right away or rent a big office, but that isn't necessarily a bad thing. 
Growing too quickly, overhiring, and overextending your budget are surefire ways to doom your company. Instead of making those mistakes, spend time during the planning stages (and in the day-to-day operation of your business) doing everything you can to keep your expenses as low as possible while responsibly managing cash flow.
Here are a few ways to keep your costs down:
Regularly look for more affordable suppliers.
Sign a longer lease if you get a better price on office space
Hire hard-working employees.
4. Always Be Willing to Work Harder
The unfortunate truth is that many businesses fail. In the United States alone, 18% of small businesses fail in the first year, and by the 10th year, 65% of businesses have failed. There's not a single reason why the majority of companies don't make it, but to be a successful entrepreneur, you have to look at those numbers and believe you'll be part of that 35% who will make it past the 10-year mark.
And if the reason you know you'll make it is because of your ability (and willingness) to work harder than everyone else, you've got a fighting chance. That might look like this:
Offering extended hours so your customers can get what they want when they need it
Not taking a paycheck until the business is profitable
Doing the work of multiple people to keep costs low
All businesses hit rough patches, but being prepared to face those challenges with confidence that you'll make it to the other side is one of the key qualities of a successful entrepreneur. 
5. Set Your Goals (and Expectations) Early
While your passion should provide you with momentum to get a business off the ground, if you don't set tangible, realistic goals before you start, you'll be flying blind. To set goals you can feasibly achieve, you'll have to take the time to research the industry thoroughly. Some goals you should set include:
Sales goals
Customer retention goals
Marketing goals
If you already work in the industry your new business will be in, use that to your advantage. Gather as much information as you can about the field, suppliers, and potential competitors. Use the tools and knowledge out there to create projections, and then base your goals on those numbers. 
Setting benchmarks for your business over time can help you harness momentum and guide you through tough times. By focusing on where you want to go, you'll be able to tell if you're heading in the right direction or if you need to course-correct. 
Successful Entrepreneur Quick Tip
"Each entrepreneur worth their salt knows the importance of having both short-term and long-term goals. Get your aspirations down on paper and posted someplace you'll see them often, like the wall in front of your desk. In this way, you can always keep in mind the greater purpose of your efforts." — Jay Soni, marketing director, Yorkshire Fabric Shop
6. Learn To Embrace Your Mistakes
Mistakes are inevitable as a business owner. But what you do when you make a mistake is what separates you from other entrepreneurs. The most successful people understand that it isn't a matter of if they'll fail, it's a matter of when. And when they do make a mistake, they learn from it instead of letting it ruin them. Here are some of the most common mistakes many entrepreneurs make:
Forgetting about your competitors: It's easy to get absorbed in your own business, but keeping your head down means someone can sneak up on you. Regularly check in on your competitors to make sure you're not missing out on opportunities that they're taking advantage of.
Not thinking about your customers enough: Even if you have the best product or service on the market, if you aren't thinking about how it benefits your customers and communicating that to them, you won't last long. Keep their needs in mind always.
Thinking you can do everything yourself: You may be amazing, but nobody is amazing enough to keep every aspect of a business running perfectly forever. As you grow, remember that finding top talent and delegating responsibilities will make your business more successful.
Undervaluing what you do: Pricing competitively is a must, but don't do yourself a disservice by reducing your margins to a razor-thin line. Being the lowest-priced option may not bring everyone to your business — it may only attract people who want the lowest price. Any future price increases could alienate them if your base is primarily focused on budget. 
Mistakes can make you feel like you aren't qualified to do your job or that you don't know how to run a business successfully. But if you have a growth mindset, you can see them as opportunities to level up your skill set in the area where you stumbled.
Successful Entrepreneur Quick Tip
"Failure is a natural part of entrepreneurship. You will encounter setbacks and challenges along the way. The key is to learn from your failures and use them as opportunities to grow and improve." — Geordie Wardman, founder, Onestop Devshop 
7. Create a Solid Business Plan

One of the most important steps you can take to present your new business the right way is with a thorough business plan. A good business plan can help you secure funding from investors, open a bank account, and keep your goals top of mind. Here are some of the most important parts of any good business plan:
Executive summary: Write a quick overview of your business, including what you do and why your business will succeed.
Company description: Describe how your business will solve your customers' problems. Talk about your expertise and how that will translate into a business that will work.
Market analysis: Provide an overview of your competitors and customers to show investors you understand the industry deeply.
Organization chart: Discuss the structure of your company, including the legal structure you've chosen (LLC, sole proprietorship, etc.). Give investors an idea of the experience you and your team have. 
Products and services list: Talk about exactly what you'll sell or the services you'll provide. Discuss any unique or proprietary products or techniques. 
Marketing plan: Lay out your marketing strategy, including how you'll reach customers as well as the cost of marketing efforts for at least a year.
Customer segmentation: Go into detail about who your customers are and how you will market to them based on their profiles.
Operations and logistics: Describe the day-to-day functions of your company and how the individual parts will work together. Discuss what products and services your company will need and how much they cost.
Financial plans: This section should include requests for funding and your financial projections. Be as specific as possible when requesting financial assistance and include at least five years' worth of projections.

There are many ways to put together a business plan, so make sure to spend some time researching your particular industry and market to get an idea of what will be most important. 
Successful Entrepreneur Quick Tip
"[A business plan] provides you with a road map for your journey. It will help you secure funding, identify potential challenges and opportunities for your business, and clarify your business's goals." — Rhett Stubbendeck, CEO, LeverageRx
8. Make Decisions Based on Data
For most entrepreneurs, their business is much more than just a job — it's a passion project that has a lot of their identity wrapped up in it. And while that passion is what you need to put in the long hours, it can get you into trouble when you have to make certain decisions about the business.  
That's why it is a good idea to use available data when you're trying to work out a resolution to a problem. Slowing down and taking the time to analyze the numbers will help you get a better picture of the scope of your decisions while also dampening some of the emotions you're likely feeling about a big decision.
If you have any of the following information, study it in order to make more informed, objective decisions:
Sales numbers
Profit reports
Demographic information
Website traffic
Industry forecasts
This is especially important when you're starting out. As you gain more experience and a better understanding of the factors impacting your business, you'll be able to make data-driven choices more quickly.
9. Lean Into Your Entrepreneurial Attributes

While entrepreneurs are just like everyone else in many respects, there are some characteristics they have that make them unique in the world of business. Whether you know it or not, you probably have some of these entrepreneurial personality traits if you've been thinking about starting your own business. 
Perseverance: Being able to push through difficult times is a key attribute of successful people. Putting in that extra hour or two each day when everyone else would've gone home is one of the keys to success.
Vision and Planning: Entrepreneurs know that success starts with proper planning. Whether that means planning out the best version of a product or service or organizing a workflow for maximum efficiency, planning now will save time and money later.
Organization and focus: Running a business means you're going to be wearing many different hats, often at the same time. Honing in on the most important tasks and seeing them through to the end is just one of the many benefits of focus. 
Humility and courage: Saying to the world that you know you can do something no one else can do is never easy. Harness that bravery to inspire your team and make the tough calls.  
Risk-taking and decisiveness: The better you know your company and the more clearly defined your goals are, the easier it will be to draw the right conclusions at the right time.  
Passion: Your passion is what will inspire your team to work hard and your investors to buy in. That passion will catch on, and you'll find yourself surrounded by others who feel the same way.
Curiosity and creativity: Doing things the way they've always been done isn't a recipe for success as an entrepreneur. Even when you're confronted with a seemingly unbeatable problem, your creativity will find a way to solve it.
Learning to build off your strengths while reducing the impact of your weaknesses is vital for growing as an entrepreneur. Don't get discouraged if you see any of these attributes in others and you don't see them in yourself — other people likely feel the same way about your unique skills.
Successful Entrepreneur Quick Tip
"Search in a variety of places for ideas. Discover your inspiration and use it as fuel. Lean on your creativity-enhancing habits to develop this skill." — Thomas Lewis, CEO and founder, RIP City Review
10. Build Relationships With Other Entrepreneurs
The old adage that says "it's all about who you know" is surprisingly accurate. It means if you want to be successful, you need to network. 
Networking might seem at odds with some of the other qualities of successful entrepreneurship we've talked about, but getting to know other people inside and outside your industry is essential. By networking, you'll learn what others are doing, who their suppliers are, and how they're finding their place in the market. Find other entrepreneurs in your industry by:


Checking LinkedIn and Reddit: Lots of professionals use these platforms to network and connect with others in the field — and to learn more about what their customers want.
Going to industry events: Attending trade shows, awards shows, product launches, and conventions is a great way to meet new people and reconnect with acquaintances.  
Building relationships with other people can lead to new business you may not have otherwise earned just because you know the right people. Find online communities of other entrepreneurs, spend time meeting people at trade events, and get to know the other business owners in your area to expand your network.
11. Be Prepared for a Long Journey
Building any successful business is much more of a marathon than a sprint. Even behind those so-called "overnight successes" are years of hard work, study, and failures. The numbers don't lie: It takes most businesses at least two years to turn a profit. Resilience in the face of difficulty should be near the top of every list of entrepreneurial personality traits because it will always be necessary.
Handling long journeys (literally or metaphorically) requires patience and planning. Know when to put in the extra hours and when to take a few days to reset. Learn to identify the signs of burnout that can lead to making rash decisions. 
Most of all, remind yourself that even during difficult times, taking a single step forward is infinitely better than stopping. 
Successful Entrepreneur Quick Tip
"You get knocked around often, so you have to be able to keep getting back up and trying again with enthusiasm and energy. A lot of people tell you no (investors, board, customers, candidates), so if you are easily daunted or do not have thick skin you will not last long in my experience." — Paige Arnof-Fenn, founder and CEO, Mavens & Moguls
12. Find Tools To Make Running Your Business Easier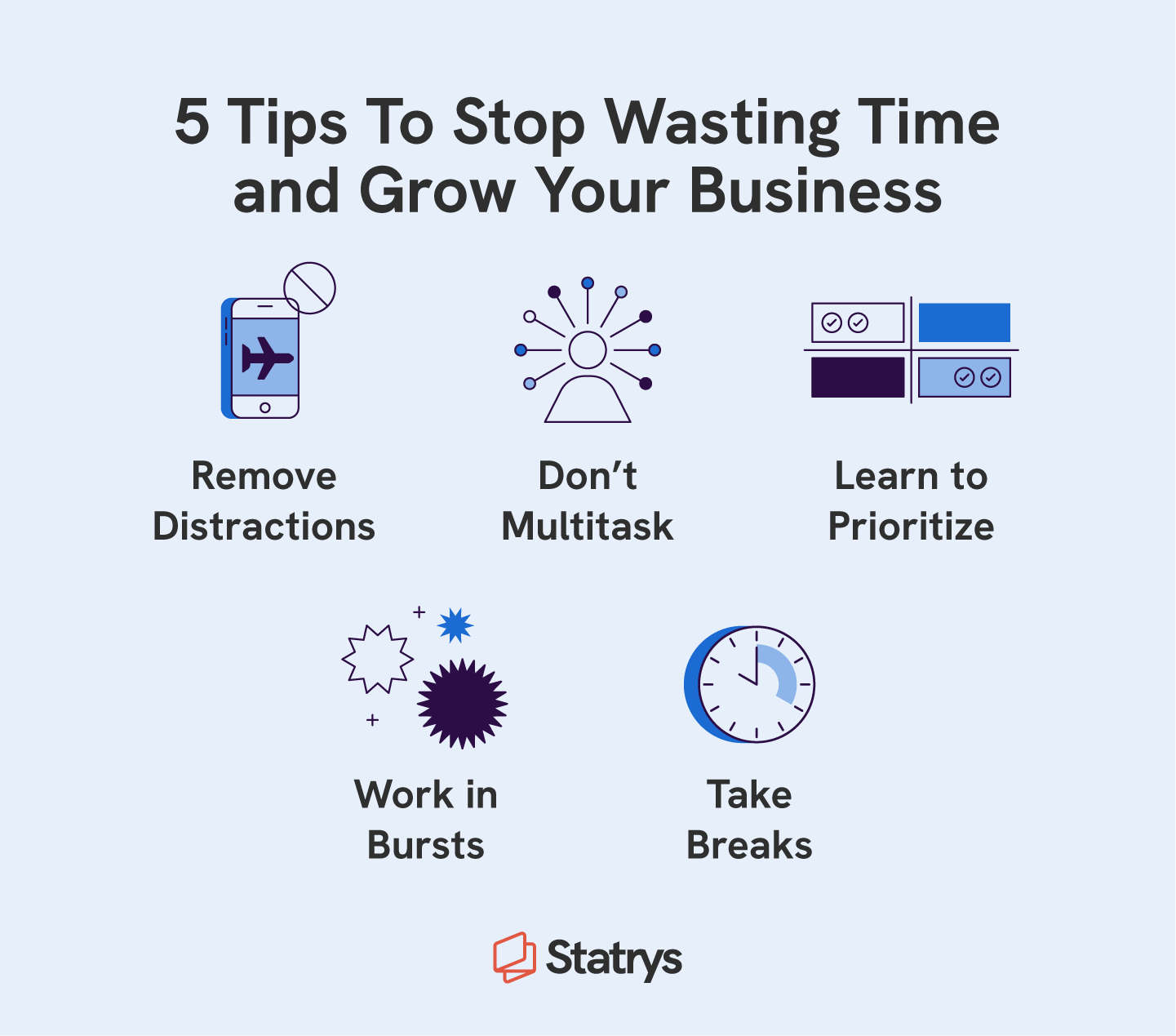 Tools are there to make processes easier and the person using them more productive. While you might be used to doing things the hard way as an entrepreneur, take advantage of these tools to streamline your work and increase productivity. 
Learning a new tool can help you focus on the parts of your business you're best at, and those are the most important. Regularly evaluate all of your tools to make sure they're the most effective for your needs, they fit your budget, and there aren't better alternatives out there. These tools include your:
CRM 
Project management system
Banking and accounting tools
Messaging apps
Payment and point-of-sale systems
Website platform
If you feel like something isn't working as well as it could, do some research on available alternatives. While other systems may not solve all your problems, they may be able to provide you with more than you have at the moment. 
Don't forget to listen to your team, especially the employees who are dealing with these tools all day, every day — they can shed light on what's functioning well and where there's room for improvement.
13. Take Risks When You Need To
There are always risks to running a business, but risk-taking can set you apart from others in your industry who want things to stay the same. Finding the balance between sure things and maybes isn't a skill most people are born with, but you can learn it. 
Some of the most common risks entrepreneurs take include:
Sacrificing a regular paycheck
Relying on a small group of employees 
Taking a chance on a new sales or marketing strategy
While many of your decisions should be based on hard data, there are times when you need to trust your gut. Trusting your gut isn't foolish; it's a way of understanding your knowledge and experience on a level that goes beyond the purely intellectual. 
You're placing a bet based on a deep understanding of the odds. Sure, it's still a bet, but if you've got a full house, your chances of winning aren't bad.
Successful Entrepreneur Quick Tip
"Building a business takes time and patience; taking calculated risks can help you make progress faster, but success is a long-term game. Find mentors, stay curious, and never stop learning; this will take you far in life." — Geoff Cudd, Founder, Don't Do It Yourself
Whether you've been an entrepreneur for years or you're just getting started,  these tips about how to be a successful entrepreneur will hopefully give you a boost of enthusiasm and energy for your next step. If you want to open a small ecommerce business as a side hustle or you're diving headfirst into starting an international business in Hong Kong, start preparing for your journey today. 
FAQs
What makes an entrepreneur successful?
Successful entrepreneurship looks different to every entrepreneur. Some people want to create a product that millions of people will need, while others are looking for a way to supplement their income by doing something they're passionate about. Ask yourself how you would define success and then work toward that goal.
Where can I find advice for business success?
How can I become a successful entrepreneur with no money?