A deposit invoice is a request for advance payment that covers a partial of the total product or service cost. This payment is used to cover initial expenses for the project or to reserve products and services. 
A deposit invoice helps improve cash flow and foster trust with clients, signaling the value placed on your skills and availability.
In case of cancellation, deposits help manage financial risks by covering supply costs for unfinished work and compensating for lost time and opportunities.
Securing upfront payment makes all the difference for businesses, especially those operating on slim margins. 
Deposit invoices can do just that, ensuring projects are adequately funded and that cash will properly flow from the start to make the end product or service finish beautifully.
This article explains what a deposit invoice is, when it should be used, best practices, and a free template.
What is a Deposit Invoice?
A deposit invoice is an invoice sent to request deposits – initial or partial payment of the total cost – before the delivery of goods. This is often calculated in percentage and paid as a form of confirmation for large purchases or reservations for products or services. 
Depending on the type of business, this kind of preliminary payment may also be referred to as an advance payment, upfront fee, or down payment.
🔎 Tip: Learn more about all the different types of invoices
When to Use a Deposit Invoice
The common use cases include the following:
Using a Deposit Invoice for the Upfront Cost
Some projects require an initial investment to get things up and running — materials, equipment rentals, venue booking, or hiring subcontractors. 
Fronting all those startup costs can be a challenge. You may not have enough cash in reserve to cover all those expenses. And if you pay for everything before getting paid by the client, you risk disrupting ongoing cash flow throughout the duration.
A deposit invoice can help address this issue. By having the client pay part of the total cost early on, that money can fund what's needed at the outset. This allows the work to start smoothly without financial risk, stress, or limitation. It also shows that you and the client are fully committed to making the project successful.
Using a Deposit Invoice as a Security
Sometimes, people cancel a big order last minute after you've done most of the work. Or they take what you made and refuse to pay you. A deposit invoice can protect a business from such unfortunate events.
Common situations where deposits make sense as security are:
Large Purchases - Businesses dealing with electronics, appliances, vehicles, and other high-value items may request a deposit to reserve the product for customers.
Pre-order products - Businesses offering pre-order products, especially those with high demand or limited availability, can collect deposits before production.
Made-to-order work - A business creates personalized jewelry, clothing, or artwork. If a deposit is not required and the customer cancels later, the business is left bearing the costs for unpaid work. Worse, some products cannot even be resold to other customers.
Service booking - Think restaurant reservation for exclusive dining or limited space workshops. Such businesses would want to collect a deposit to ensure commitment and ensure all available spots will be filled.
Freelancers working with a new client - A freelancer who has not established trust with the client may request a deposit invoice to protect themselves from the possibility of the client declining to pay upon delivering the promised services.
In essence,  you want to ensure the client will not cancel at the last minute after investing your resources and time into their project. Or if they do, you get a portion to cover your loss. 
🔎 Tip: Although deposit and proforma invoices seem similar, they are not identical. Learn what a pro forma invoice is and when to use one.
Why You Should Use a Deposit Invoice
The main reasons you should use a deposit invoice are:
Deposit Invoices Can Improve Cash Flow
Cashflow is vital for any business, especially small ones. Taking deposits can shield you from out-of-pocket expenses and potential cash flow issues.
Additionally, a deposit can help you avoid late payments or non-payments. Customers who pay part of the cost upfront may be less likely to change their minds since they have already invested in the work.
Deposit Invoices Can Build Trust and Avoid Conflict
A deposit invoice can prevent misunderstandings and disputes. It confirms project details in writing, such as the scope, timeline, deliverables, and payment terms. If there is any disagreement or confusion, you may be able to refer to the deposit invoice as proof of agreement.
Example of a Deposit Invoice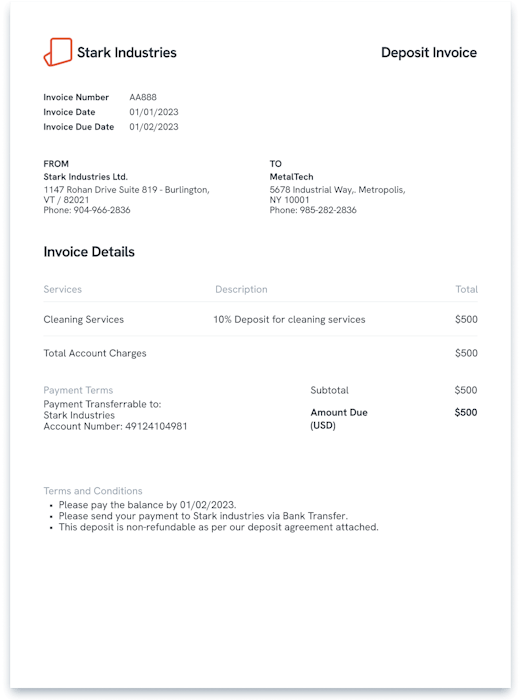 Details included in a deposit invoice are:
Business contact information
Customer contact information 
Issue Date
Description of items or work being invoiced
Deposit amount per unit and total amount. You can use a percentage (such as 10%) or a fixed amount (such as $1000), depending on your agreement with the customer.
Taxes or other fees involved
Payment due date
Payment methods and payment terms 
How to Send a Deposit Invoice
Next, let's look at the practice of sending invoices when your business collects deposits. 
1. Send the deposit invoice as the first invoice.
After you and your customer have agreed on the details of the project or product, create and send a deposit invoice as the initial invoice. 
2. When the work is done, send a final invoice.
Once your work is wrapped up, send another invoice to request final payment, called the "final invoice." 
The final invoice should detail how the deposit amount from the previous invoice has been subtracted and what is the remaining balance. 
Attaching the deposit invoice as a reference is also convenient for customers. 
Here is what a final invoice with a deposit deducted could look like.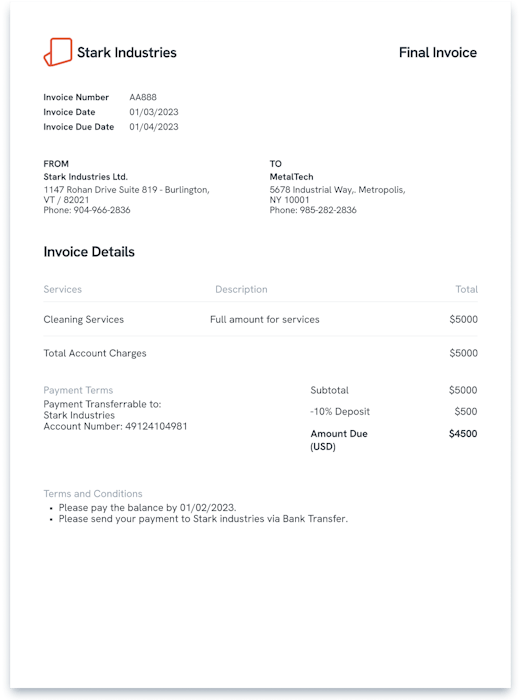 Deposit Invoice Email Template
Now that we've discussed deposit invoice examples and sending methods, you might wonder how to communicate with your customer via email. 
We have prepared a simple email template you can customize and use! 

Thank you for choosing [your company name] for your [project description] need!

Per our agreement, we require a deposit of [amount] before we start working on the project. Once the project is completed, this deposit will be deducted from the final invoice.

Please find the attached deposit invoice with the details of the payment. You can pay the deposit within [payment due date] by 

[list payment methods] 

If you have any questions or concerns, please feel free to contact [contact details]

Thank you for your trust and cooperation. We look forward to working with you on this project.

Sincerely, 
[your name and company name]

Deposit Invoice Best Practice
Before we wrap up, let's see some best practices when handling deposit invoices.
Send the Invoice Immediately
The sooner you send your deposit invoice, the sooner you can get paid and start working. Issuing one just after the scope is finalized demonstrates your professionalism and productivity. 
A timely invoice increases the chances of sealing the deal, reducing the window for the customer to reconsider or explore other options.
Specify the Refund Policy
Different situations suit different deposit policies. For instance, refundable deposits are commonly used in rental services, where the deposit is reimbursed upon the satisfactory return of the item. Conversely, non-refundable deposits are more common for work projects.
Either way, be transparent regarding your deposit policy. Clarify whether it is refundable or non-refundable. In other words, whether the deposited amount can be returned if the products or services are canceled. 
Writing a clear agreement and obtaining the customer's signature is advisable to prevent complications when dealing with substantial non-refundable deposits. 
If an agreement is already in place, then giving customers a friendly reminder about it in the deposit invoice will help keep things simple and avoid problems later on.
Take Sale Taxes into Account 
Here are the primary conditions to keep in mind
The deposit invoice should also include tax for products or services subject to sales tax. This can help you avoid underreporting or overpaying your taxes.
If deposits are refunded, it is unnecessary to report them as income for tax purposes. However, you should keep a record of the refund transaction and its reason. 
If deposits are non-refundable and the sales are canceled, you must report it for tax purposes. If you keep the deposit as a non-refundable fee, you still need to report it as income and pay sales tax even if the project is canceled. This is because the deposit is considered a payment for a service or product you have provided, even if it is partial or incomplete. 
Provide a Clear Next Step
After your customer has made a deposit invoice payment, thank them and inform them that you have received the payment and will begin working on the project. Keeping them in the know earns loyalty. 
How To Create a Deposit Invoice
If you're looking for an easy way to create a deposit invoice, try Stratrys invoice generator for quick, customizable invoice generation. As your business grows, you will need to consider using invoice management tools to help you manage your invoices.
Statrys invoice management software is an online invoicing tool for small to medium-sized businesses. You can create invoices, customize the details, and send them to customers with payment links like PayPal, PayMe, and QR codes in just a few clicks. Plus, you can keep tabs on payment history and use automatic payment reminders.
FAQs
What is the difference between an invoice and a deposit invoice?
The main difference is that a regular invoice requests full payment for goods or services rendered, whereas a deposit invoice requests advance payment for a partial amount of goods or services.
How does a deposit invoice work?
How to request a deposit payment on an invoice?
Should I issue invoices for deposits?