Airwallex is a fully licensed and regulated fintech company. Their services include multi-currency business accounts, FX service, payment processing, and software integrations for business clients.
Airwallex business account allows clients to collect and hold funds up to 19 currencies and can transfer to over 150 countries in 40+ currencies. 
Choosing the right business account is crucial for the efficiency and success of your business.
To help you make an informed decision for your business banking needs, we have created a comprehensive review of Airwallex – one of the fastest-growing Australian fintechs.
This review covers everything about Airwallex's business accounts, from eligibility to opening an account, features, and fees to help you understand their products thoroughly.
🔍Tip: We also have an in-depth comparison between Airwallex and Statrys to help you choose the right business account based on your needs.
Airwallex Pros and Cons
Here are the main points you may want to consider before opening an Airwallex account:

Why Airwallex may be a good option
100% online account application
Multi-currency business account
Competitive fees
Virtual and physical payment cards
Track and control your business expenses
Software Integration

Why Airwallex may not be a good option
Varying terms, features, and fees by country
Limits apply to transactions and foreign exchange; approval is needed to increase
The default card limit is USD 10,000; approval is required to increase
Physical cards do not work at ATMs
The foreign exchange rate determined after completing a transaction
Difficult to reach a real person for customer support
What is Airwallex?
Airwallex is a fully licensed fintech company that transforms the experience of small and medium-sized enterprises with business banking. Their financial services include multi-currency business accounts with debit cards, local and international transfers, foreign currency exchange, and more.
Airwallex was founded in Melbourne, Australia, in 2015 and expanded to 7 locations. It was co-founded by Jack Zhang, the current CEO, Jacob Dai, Lucy Liu, and Max Li. The company is backed by Tencent, a Chinese multinational technology and entertainment conglomerate.
As of August 2023, Airwallex has raised USD 902 million across 12 funding rounds with 22 investors.
It's important to note that Airwallex is licensed and regulated in Australia, Canada, China, Hong Kong, Lithuania, Malaysia, New Zealand, Singapore, The Netherlands, the United Kingdom, and the United States.
Requirements for Opening an Account With Airwallex
Airwallex only offers business accounts and cannot provide personal accounts to individuals.
Only registered businesses in certain countries and operating in non-prohibited industries, such as arms dealing, gambling, pharmaceuticals, charities, or investment firms, are eligible for opening accounts with Airwallex.
It's important to note that the country where your business is registered will determine which Airwallex country you apply for an account. 
For example, businesses registered in Hong Kong, Japan, Mexico, Thailand, and Taiwan can only apply for an Airwallex account through Airwallex Hong Kong. These businesses will be subject to Airwallex Hong Kong's terms and conditions, and this will have a possible impact on pricing, the products available, and the list of prohibited industries.
Moreover, the terms and conditions also vary among the corresponding countries. Ensure to check the country of where the Airwallex terms and conditions apply to your business before opening an account.
Here's the list of the eligible countries:
Austria
Australia
Belgium
Bulgaria
Canada
the Cayman Islands
China
Croatia
Cyprus
Czechia
Denmark
Estonia
Finland
France
Germany
Greece
Hong Kong SAR
Hungary
Iceland
Ireland
Israel
Italy
Korea, South
Latvia
Liechtenstein
Lithuania
Luxembourg
Macau SAR
Malaysia
Malta
the Marshall Islands
Mexico
the Netherlands
New Zealand
Norway
Poland
Portugal
Puerto Rico
Romania
Seychelles
Singapore
Slovakia
Slovenia
Spain
Sweden
Switzerland
Taiwan
Thailand
United Kingdom
United States of America
Virgin Islands (British)
Virgin Islands (US)
How to Open an Airwallex Business Account
The application process can be completed online. To set up an account, you need to provide the following information.
Enter your name and business email address
Provide your company name and the country where it's registered
Mobile number
Agree on terms and conditions
Once you've submitted your application, Airwallex will process your application within 1-3 working days. 
The onboarding team might email you during this time to gather more information or supporting business documents.
🔍Tip: Learn the key things to know before opening an Airwallex business account.
Airwallex Products
With an Airwallex business account, your company can benefit from the following services.
1. Global Account
The global account is a collection capability by Airwallex. It aggregates local currency account numbers that enable you to collect money from platforms like PayPal, Amazon, or suppliers via SWIFT or domestic payment methods.
For example, it includes a USD account in the US or an EU account in the EU. The multi-currency account enables your company to hold, collect, and send money in all major currencies.
Overview of Airwallex's Receiving Payments Capabilities by Location
Location
Supported Currencies
Local Payment Method
International Payments (SWIFT)
Australia

AUD

Local Bank Transfer + RTGS

Canada

CAD

EFT

Denmark

DKK,

CHF, CZK, GBP, HUF, MXN, NOK, PLN, RON, SEK, ZAR

Intradagclearing, KRONOS2 (only for DKK)

European Union

EUR

SEPA Transfer

Great Britain

GBP

Local Bank Transfer, CHAPS, and BACS 

Hong Kong

HKD, CNY,

EUR, USD, AUD, GBP, JPY, SGD, CHF, CAD, NZD

ACH, RTGS, FPS (only for HKD and CNY)

RTGS (for EUR and USD)

Japan

JPY

Domestic Zengin Transfer

New Zealand

NZD

Direct credit

Poland

PLN

Express Elixir (instant), Elixir (batch), Sorbnet (RTGS)

Singapore

SGD

GIRO, MEPS, FAST

United States


(For non-US-registered businesses)

USD

ACH, Fedwire

United States


(For US-registered businesses)

USD

ACH, FedWire


Via intermediary bank
*An international payment (SWIFT) can be collected in 19 currencies, including AUD, CAD, CHF, CNY, CZK, EUR, GBP, HKD, HUF, JPY, MXN, NOK, NZD, PLN, RON, SEK, SGD, USD and ZAR. Please refer to Airwallex's payment page for more information.
2. Easy Transfer
With Airwallex, you can send money to over 150 countries in over 40 currencies in 2 methods:
1. SWIFT Transfers
The payment currency will depend on where the beneficiary is banked. SWIFT payments can usually be made using the major G10 currencies.
2. Local Transfers
The payment currency must be the local currency of the country where the beneficiary is banked. Hong Kong is an exception, as local transfers can be made in HKD, USD, EUR, and CNY.
Please check out Airwallex's Payout Guide to determine which payments are available for your beneficiaries based on location.
The transfer limits may vary depending on the agreement between Airwallex and your business. However, it can be negotiated on a case-by-case basis with your account manager.
We've asked Statrys users who have also used Airwallex, and here's what they say about their experience:
3. Cards
Airwallex's virtual and physical Visa debit cards allow you to make payments in multiple currencies without foreign transaction fees and other hidden charges. Supported currencies include AUD, SGD, HKD, GBP, USD, EUR, JPY, CAD, NZD, and CHF.
Cards have a default limit of USD 10,000 or equivalent in another settlement currency, but you can increase the limit by contacting your account manager. Airwallex cards also have built-in controls like immediate freezing, unfreezing, and cancellation.
Airwallex offers 2 types of business cards: company and employee cards, and the differences between them are as follows:
Company Cards
Virtual only
Admins can see all cards and are auto-assigned as the owner
They can also be securely shared with a maximum of 3 contacts to view card details and receive 2FA notifications to make transactions
Airwallex Account Business Name
PIN code is not required
Employee Cards
Virtual, Physical, and Digital Wallet: Google and Apple pay
Each card is assigned to one employee.
Employees can view card details and transactions and freeze the card.
Admins can view, manage limits, freeze, or cancel all Employee Cards.
Individual Employee Name
PIN code can be found in the card details in the WebApp
📝 Note: Physical cards are available in Australia, Hong Kong, Singapore, the UK, and the US. However, they cannot be used on ATMs at the time of review.
4. Foreign Exchange
In case your business deals with multiple currencies, Airwallex offers competitive exchange rates for over 40 currencies.
The FX fee is charged based on the interbank rate determined by Airwallex, which is calculated by live exchange rates from their banking partners and market data sources.
Airwallex only confirms the foreign exchange rate after completing a foreign currency transaction.
They normally don't include a markup in the interbank rate. However, during the weekend and when markets are closed or rates are unavailable, an additional markup may be applied to Airwallex's interbank rate to account for such situations.
5. Expense Management
This service simplifies corporate card expense management by collecting information and receipts from cardholders. You can easily monitor team expenses in real-time and set submission criteria, approve expenses, and customize workflows and controls. It saves you time reconciling business expenses and closing books faster.
6. Software Integration
Airwallex allows businesses to integrate with accounting software such as Xero, Quickbooks, and Netsuite and ecommerce platforms like Amazon, Shopify, and Lazada.
Businesses can collect payments faster, save time with automatic reconciliation, and streamline expense management by importing charts of accounts, tracking categories, and tax rates directly within Airwallex.
Fees Charged by Airwallex
Airwallex's fees are transparent and straightforward. It's important to note that fees vary across entities and locations. We suggest you head to their pricing and fee schedule pages for the most up-to-date information. 
To give you an idea, the following is the pricing information for an account opened in Hong Kong.
Fees
Account opening fee

Free

Account monthly fee

Free

Payment

Receiving payment 

Free

Local payout

Free

International SWIFT payment 

HKD 120 - 200

FX conversions fee

Up to 2.00%

Cards

Company Cards

Free for all cardholders

Employee cards

Free

Card payment fee per transaction

3.30% 

Expense Management Service Fee

HKD 40 per active Employee Cardholder per month
Getting in Touch With Airwallex
If you have a question and want to speak to someone from Airwallex, fill out a form on their support page or try calling a local Airwallex directly. In their FAQs, we did see one mention of an account manager.
It's worth asking what service an account manager offers before opening an account.
Alternative Solution: Statrys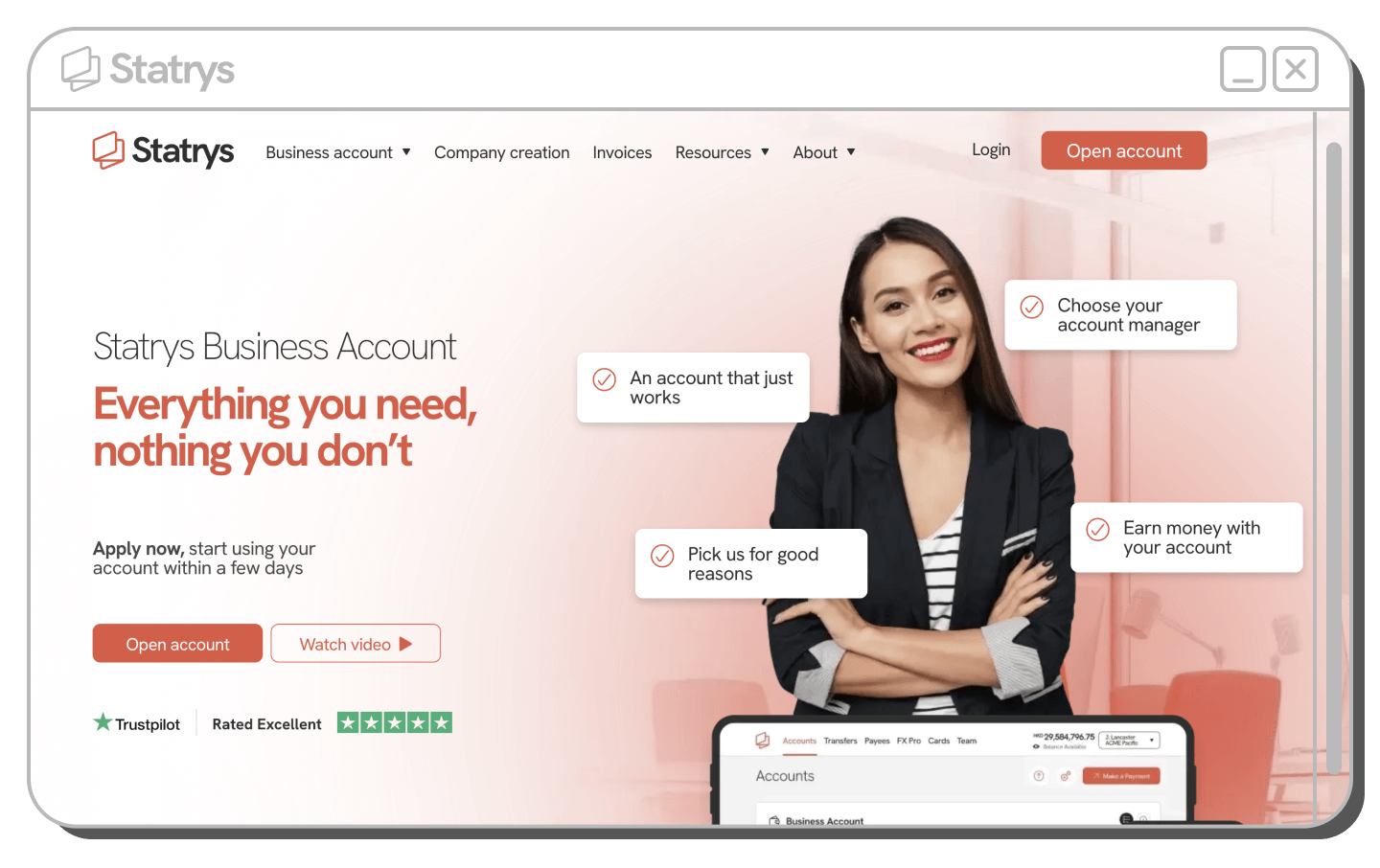 As we wrap up this comprehensive review of Airwallex, it's essential to explore alternative solutions that could better suit your specific business needs. One such alternative that stands out is Statrys, a fintech company that offers a range of business account services.
What Sets Statrys Apart?
Statrys provides a more personalized approach to business banking, offering tailored solutions that can adapt to the unique requirements of your business. Unlike Airwallex, which supports up to 40 currencies, Statrys allows international payments in 17 currencies. However, it's important to note that to open a business account with Statrys, your business must be incorporated in Hong Kong, Singapore, or the BVI.
Both companies offer virtual and physical debit cards, but Statrys has the added benefit of allowing cash withdrawals from ATMs worldwide for an additional charge of 1.99%. Airwallex cards currently do not support ATM withdrawals.
Pricing Considerations
When it comes to pricing, Statrys charges HKD 55 for incoming SWIFT payments and a monthly fee of HKD 88. On the flip side, Airwallex offers free incoming SWIFT payments and doesn't charge a monthly fee. However, Statrys has a competitive edge with lower foreign exchange fees, charging only 0.1% depending on the volume, while Airwallex's fees can range from 0.2% to 2%.
Customer Support
Statrys takes customer support seriously, offering each business account holder a dedicated account manager who can be reached via multiple channels, including phone, email, live chat, WhatsApp, and WeChat. They promise to respond to customer inquiries within 15 minutes during business hours, depending on your time zone.
Get Multiple Business Bank Accounts
One strategy that can offer additional financial security and flexibility is having multiple business bank accounts. Here are some reasons why:
Funds Allocation: Having separate accounts for different purposes like revenue, expenses, and taxes helps better financial management and tracking.
Operational Continuity: If one account gets frozen due to compliance issues or suspected fraud, having another account ensures that your business operations continue without interruption.
Asset Protection: Spreading funds across multiple accounts can protect your assets against fraud or bank failures. However, consider the associated costs like account fees or minimum balance requirements.
Opening multiple accounts may require various documents and procedures, so reviewing these factors is essential before proceeding.
🔍Tip: If you're still unsure, we also offer an in-depth comparison between Airwallex and Statrys to help you choose the right business account based on your needs.
Final Note
In short, Airwallex is a solid option for business owners, particularly those with a larger scale of business and frequent international payments. With its payment card offerings and additional services, businesses can use these services.
If you run a business in Hong Kong and across Asia, Statrys is an alternative worth considering. We offer business accounts supporting 11 different currencies to make payments for SMEs more convenient.
If you own a growing business with clients and partners in Asia, check out our business account to see how Statrys can support you with payment.
This review is based on information on the Airwallex website as of 22 August 2023.
Disclaimer

Statrys competes directly with Airwallex in the payment industry. However, we're committed to providing an unbiased, thorough review to help you make an informed choice.

Our insights are derived from industry experience and discussions with clients who have also used our competitors' services. While we'd love for you to choose us, what's most important is that you make the decision that's right for you.

If you have any feedback regarding this review, please contact us at marketing@statrys.com
FAQs
Airwallex is an online payments company used by businesses to make and receive payments in any foreign currency across 150+ countries and 40+ currencies.
Is Airwallex an Australian company?
Is Airwallex safe to use?
What are the best alternatives to Airwallex?
Disclaimer
This publication is provided for general information purposes only and is not intended to cover every aspect of the topics with which it deals. It is not intended to amount to advice on which you should rely. You must obtain professional or specialist advice before taking, or refraining from, any action on the basis of the content in this publication. The information in this publication does not constitute legal, tax or other professional advice from Statrys Limited or its affiliates. Prior results do not guarantee a similar outcome. We make no representations, warranties or guarantees, whether express or implied, that the content in the publication is accurate, complete or up to date.