Efficient and reliable payment processing is vital for businesses to succeed. This is why it is important to always compare options and find the best solution for your business.
Whether you're searching for more cost-effective options, advanced functionalities, or support for more currencies, we have prepared a list of the top 5 alternatives to Airwallex in 2023 for you to choose from.
We will be looking at their key features and who they are best suited for so you can choose the best option.
Before You Proceed

Statrys competes directly with Airwallex in the payment industry. However, we're committed to providing an unbiased, thorough review to help you make an informed choice.

Our insights are derived from industry experience and discussions with clients who have also used our competitors' services. While we'd love for you to choose us, what's most important is that you make the decision that's right for you.

If you have any feedback regarding this review, please contact us at marketing@statrys.com.
Without further ado, let's get started with our list.
💡 Note: All information provided below is dated 6 September 2023 and may have been updated since. Please check each alternative's website for the latest information.
Airwallex Alternative
Key Services
Best For

Multi-currency business accounts, FX services,

Corporate cards

, HK Company Incorporation, Dedicated account manager

SMEs based in Hong Kong, Singapore, or the BVI

Multi-currency business account,

Debit card

, FX services

Businesses that prefer having a local currency account

Multi-currency business account, Time Deposits,

Personal, and

Business Loans

Businesses that operate specifically in Hong Kong

Spend,

transfer, and

convert 40+ currencies with great exchange rates,

Debit cards, and APIs integrations

Freelancers and businesses with international clients

Mass payout services, international payments,

Debit cards, FX services, and software integrations

Businesses based in Europe and the United Kingdom
1. Statrys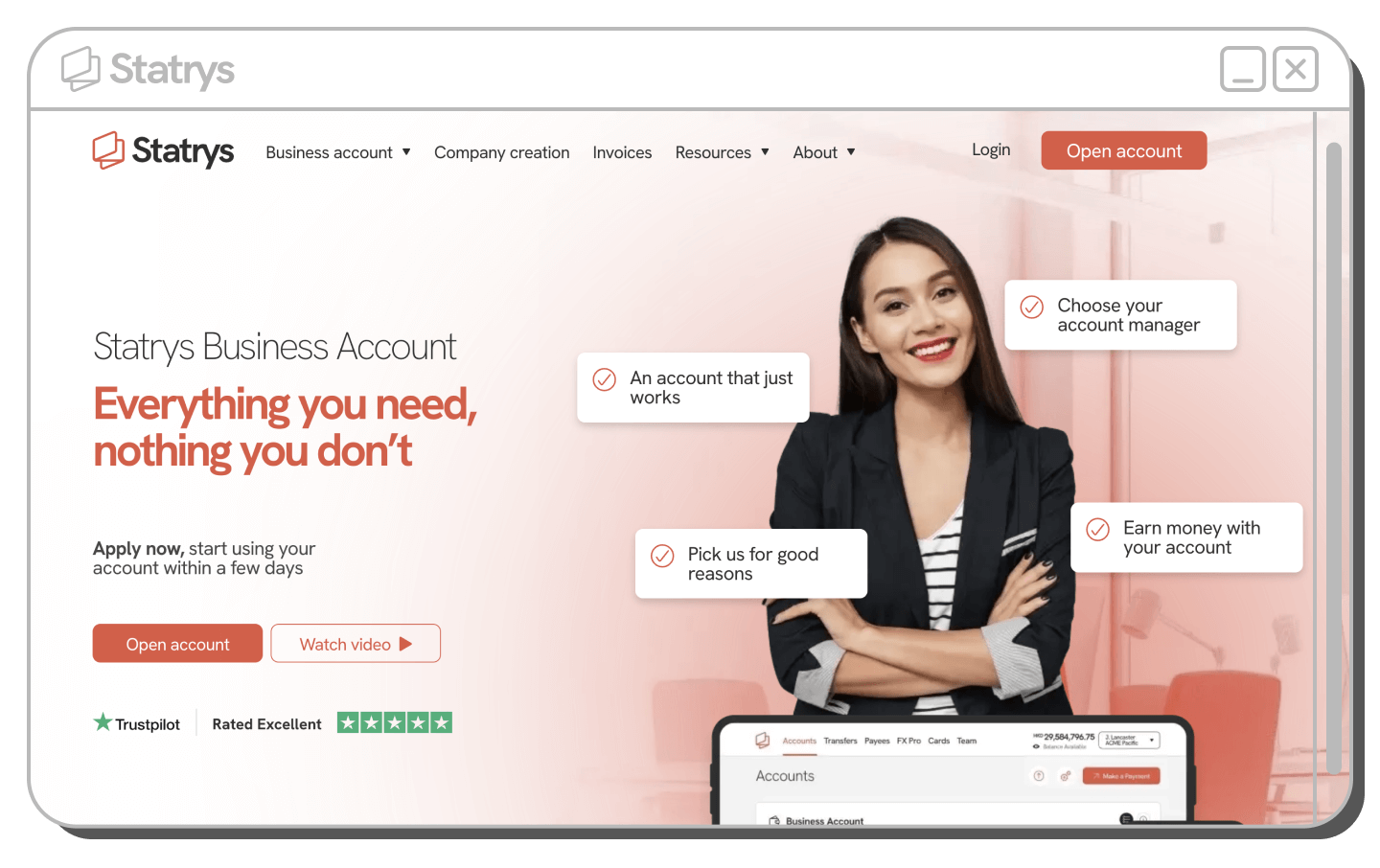 Hong Kong-based fintech company— Statrys provides financial solutions such as virtual accounts, debit cards (both virtual and physical cards), and currency exchange to businesses incorporated in Hong Kong, Singapore, and the British Virgin Islands (BVI).
Statrys' multi-currency accounts give users access to 11 different currencies, which are: USD, HKD, CNY, AUD, EUR, GBP, SGF, JPY, CHF, NZD, and CAD.
Statrys also allows its users to make and receive local and global payments (via SWIFT) with its supported currencies. Hence, businesses can make cross-border payments with competitive fees compared to traditional banks.
💡 Note: Statrys operates as a Money Service Operator in Hong Kong under the Customs & Excise Authority and as a Small Payment Institution under the Financial Conduct Authority (FCA) in the UK.
Key Services Offered by Statrys
| | |
| --- | --- |
| Statrys Key Services | Description |
| Multi-currency Business Account | 11 currencies with a single account number can be used to receive and make payments locally and internationally. |
| Virtual and Physical Debit Cards | Use prepaid virtual and physical Mastercard® cards for in-store and online purchases and cash withdrawals from ATMs in Hong Kong and abroad. |
| Company Registration  | Provides a 100% online Hong Kong company registration service. It includes pre-incorporation, post-incorporation, and business account opening.  |
| FX Services | Make spot trades and order forward contracts at the rates you prefer |
| Invoice Management | An all-in-one automated Invoice Management software that allows you to create, manage, and send invoices. Completely free.  |
| Xero Integration | Integrate between Statrys and Xero to save time on bookkeeping and cash flow management.  |
| Maker-approver | Set up transfers for later approval based on user role capabilities and have complete control of payment processes. |
Statrys Could Be Best For
✅ Businesses incorporated in Hong Kong, Singapore, and the BVI that are looking for a primary or secondary business account.
✅ Business owners who prefer fast and responsive human customer support and dedicated account managers to support them in case any questions or issues arise. Replies from customer support are expected within 15 minutes.
✅ If you prefer transparent pricing plans without any hidden fees.
2. Currenxie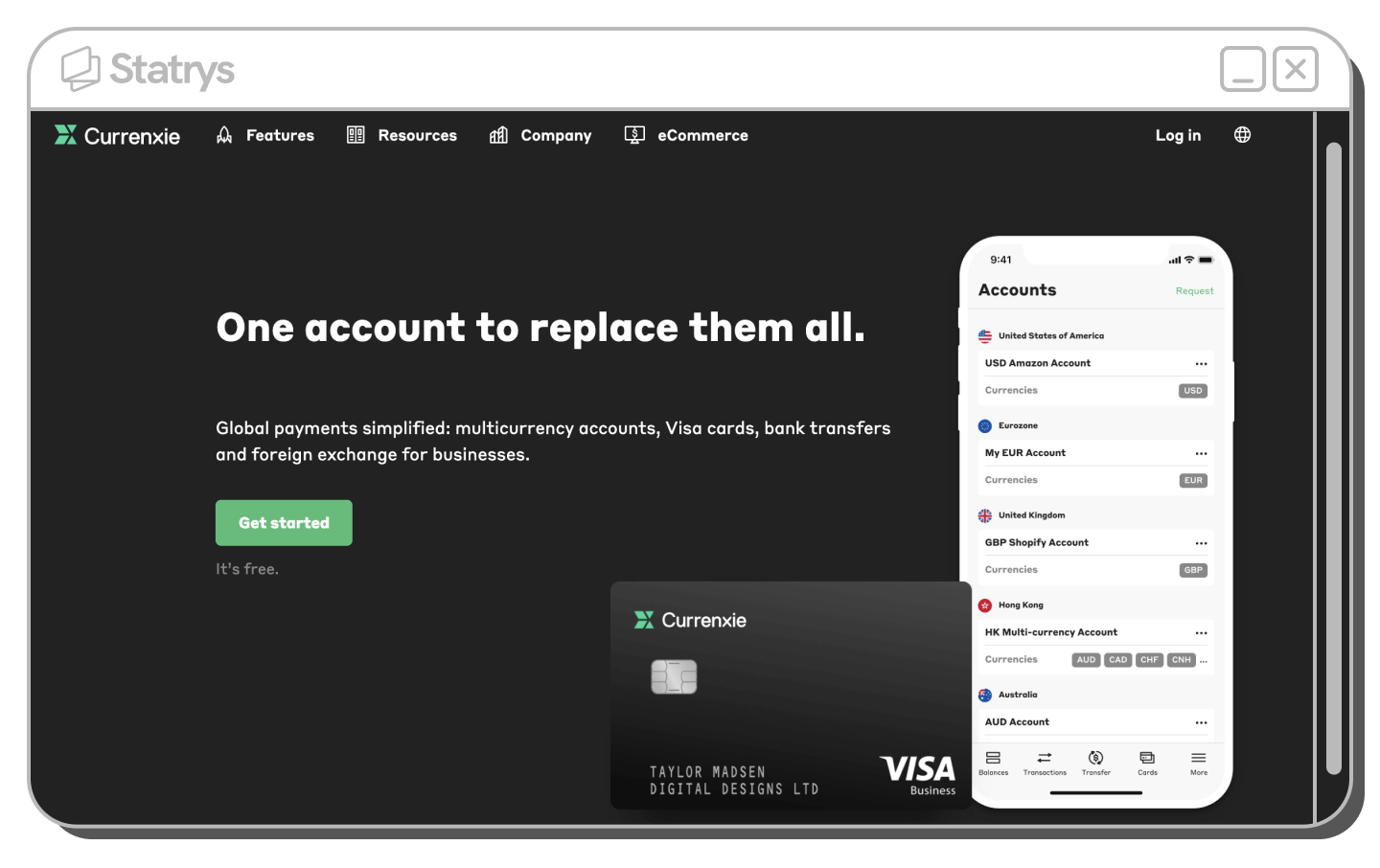 Currenxie is another Hong Kong-based financial services provider with a Money Service Operator license. Clients can integrate Currenxie accounts seamlessly into popular ecommerce platforms such as Amazon, Shopify, and Etsy and payment gateway providers like Stripe, Adyen, and Paypal.
Businesses can also open local currency accounts in different countries, enabling clients to get paid like a local. With Currenxie, clients can collect sales and pay suppliers without additional fees.
Therefore, many ecommerce businesses choose Currenxie as their payment solution.
💡 Note: Currenxie is also a registered Foreign Money Service Business in Canada, a licensed Financial Service Provider in South Africa, AUSTRAC registered in Australia, and a registered Electronic Money Institution (EMI) in the UK.
Key Services Offered by Currenxie
| | |
| --- | --- |
| Currenxie Key Services | Description |
| Multi-currency Business Account | Local and international payments (via SWIFT) can be made and received in 14 currencies through a single account number. |
| Local Currency Account | Local Currency Accounts are available in the US, UK, EU, Hong Kong, Australia, Singapore, Japan, Canada, Indonesia, and Mexico. |
| Debit Card | Virtual and physical Visa cards are available for users. Enjoy 1% cashback for every transaction. |
| FX Services | Make spot trades and order forward contracts at the rates you prefer |
| Xero Integration | Seamlessly integrate Currenxie with Xero, allowing users to manage their finances with ease. |
Currenxie Could Be Best For
✅ Ecommerce businesses who accept funds or payments from popular ecommerce and payment platforms, including Amazon, Shopify, PayPal, Stripe, Klarna, Adyen, and many more.
✅ Business owners who need to collect online sales like a local from the US, UK, EU, Japan, Australia, Indonesia, and Mexico markets, as Currenxie offers local currency accounts in these countries.
Read our comprehensive review of Currenxie to learn more about their products and fees.
3. ZA Bank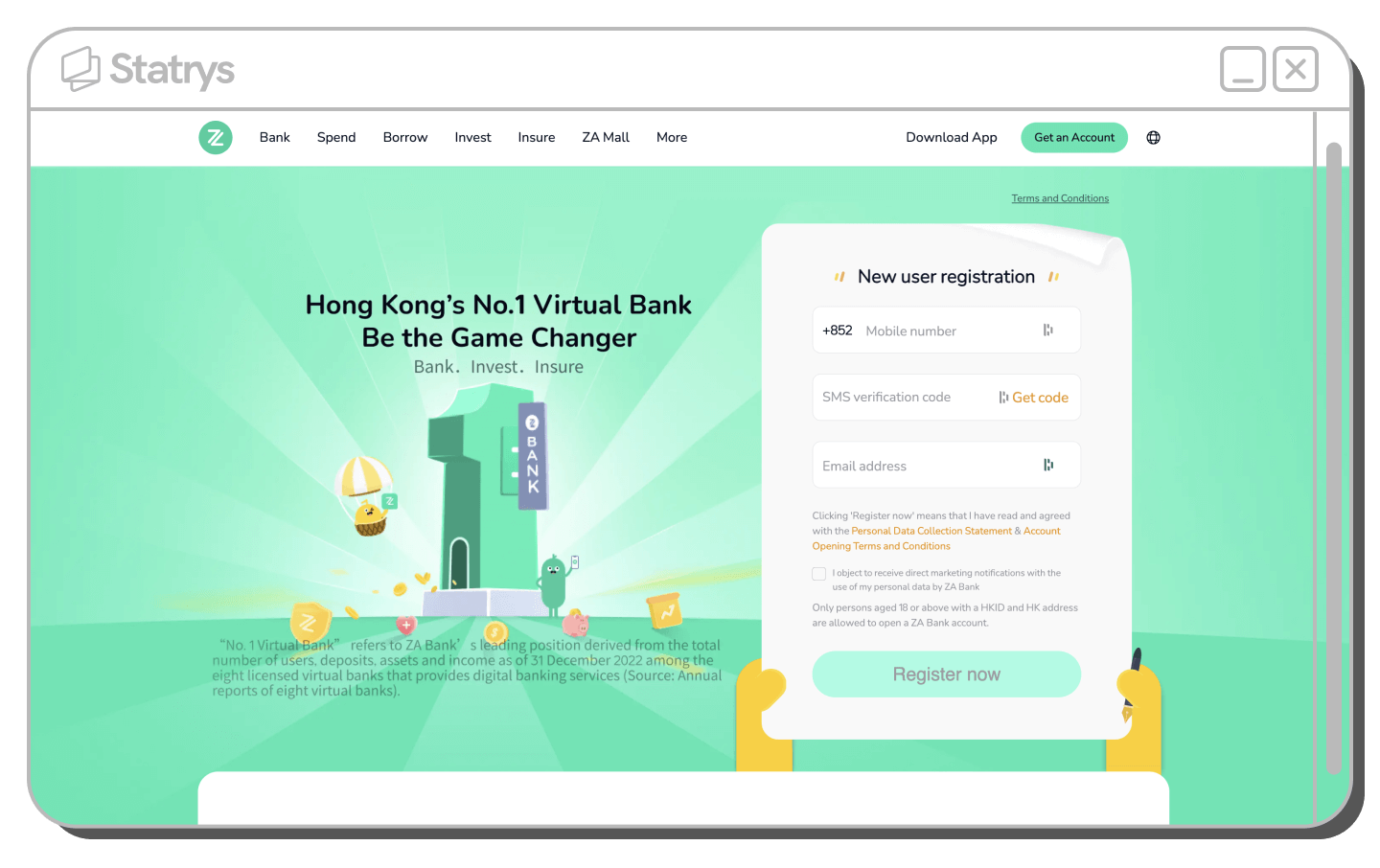 ZA Bank is the first virtual bank in Hong Kong, licensed by the Hong Kong Monetary Authority (HKMA). ZA Bank provides business accounts that support 3 currencies: HKD, CNY, and USD. Plus, clients can receive funds, make deposits, earn interest, and transfer in these 3 currencies 24/7.
💡 Note: ZA Bank is a member of Hong Kong's Deposit Protection Scheme (DPS). Therefore, each client's deposits are protected up to HKD 500,000.
Key Services Offered by ZA Bank
| | |
| --- | --- |
| ZA Bank Key Services | Description |
| Multi-currency Business Account | Business account that can access HKD, CNY, and USD. |
| FX Services | Make spot trades in HKD, USD, and CNY 24/7 without extra charges or handling fees |
| Business Loans | 80% guarantee revolving or unsecured revolving loan services. |
| Batch Payment and Payroll | Daily limits of HKD 10 million and HKD 50 million, respectively. |
| Xero Integration | Seamlessly integrate Currenxie with Xero, allowing users to manage their finances with ease. |
ZA Bank Could Be Best For
✅ As account opening fees are low, ZA Bank is an attractive option for local small businesses and new start-ups looking for cost-effective financial solutions in the initial stage.
✅ Companies incorporated in Hong Kong because this is the only jurisdiction that is eligible to open ZA Bank business accounts. 
Check out our in-depth review of ZA Bank Business Account to learn more about their features and fees.
4. Wise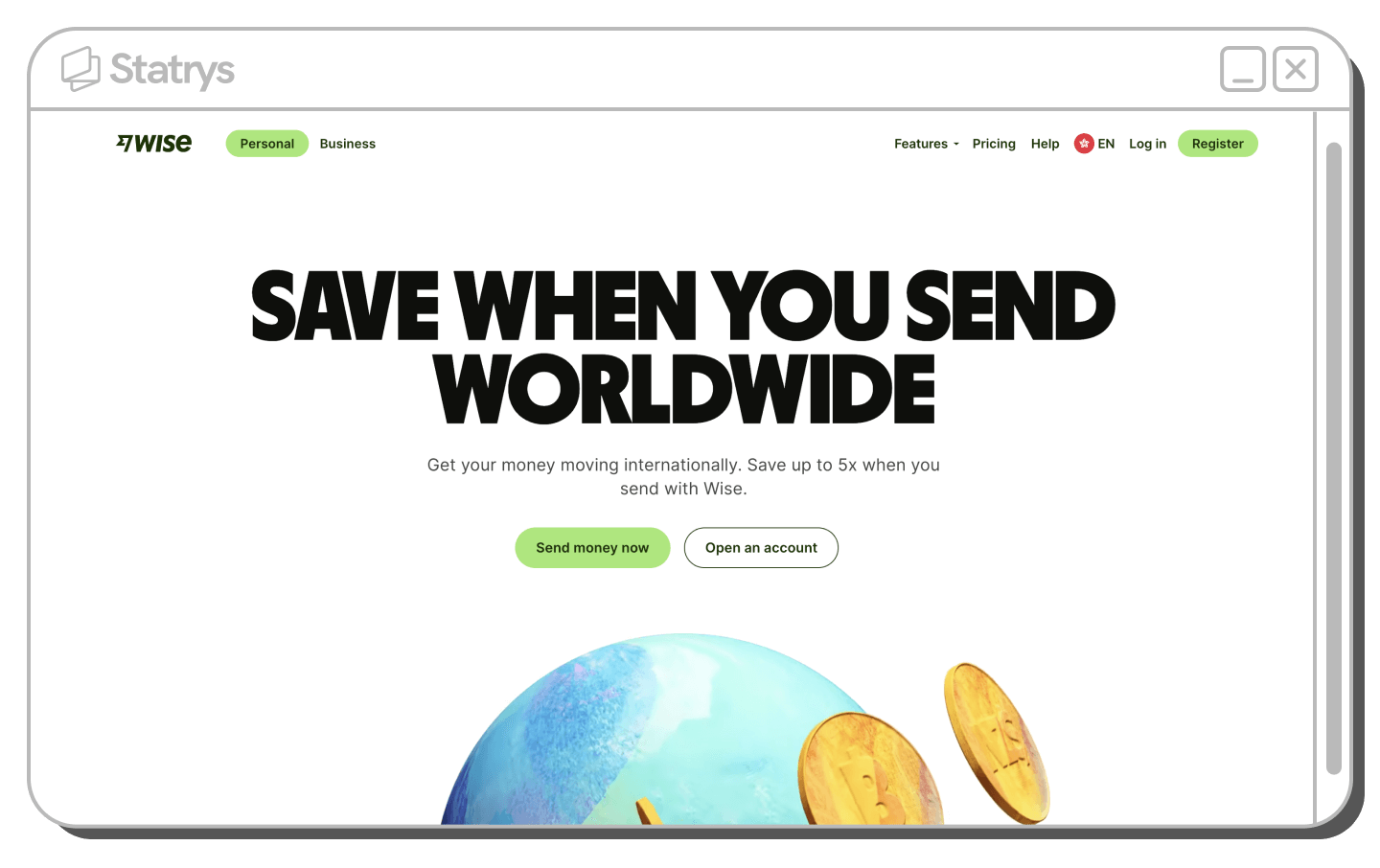 Wise is a popular UK-based fintech firm that offers business accounts to businesses of all sizes, from freelancers to enterprises. With Wise, businesses can receive payments like a local from over 30 countries and send funds to over 70 countries.
Furthermore, Wise provides business solutions such as batch payments, adjustable user-level permissions, automatic reconciliation with cloud-based accounting software, and APIs for automation.
Hence, businesses can streamline international payments and pay with competitive exchange fees and lower transaction costs.
💡 Note: Wise is regulated in countries/regions where it operates, including Australia, EU, Brazil, Canada, Hong Kong, India, Indonesia, Israel, Japan, Malaysia, New Zealand, the Philippines, Singapore, The UK, The US, and UAE.
Key Services Offered by Wise
Wise Key Services
Description

International Money Transfers

Make international payments with

interbank rates

in 70+ countries.

Business Account

Receive,

hold, convert, and make payments in 40+ currencies.

Debit Card

Easy access to your multi-currency account with Wise debit cards. Spend money abroad, make online purchases, and earn 0.5% from all eligible transactions.

APIs

Seamless API integrations into different platforms or applications

FX Services

Low-cost currency exchange services to convert funds between currencies at the mid-market exchange rate.
Wise Could Be Best For
✅ Businesses that deal with a wider range of foreign currencies for receiving, holding, and sending funds. With Wise, they can save a significant amount of time and money.
✅ Great choice for freelancers who travel frequently and digital nomads. The Wise debit card allows users to pay money abroad with ease, offering low fees and competitive exchange rates.
5. Revolut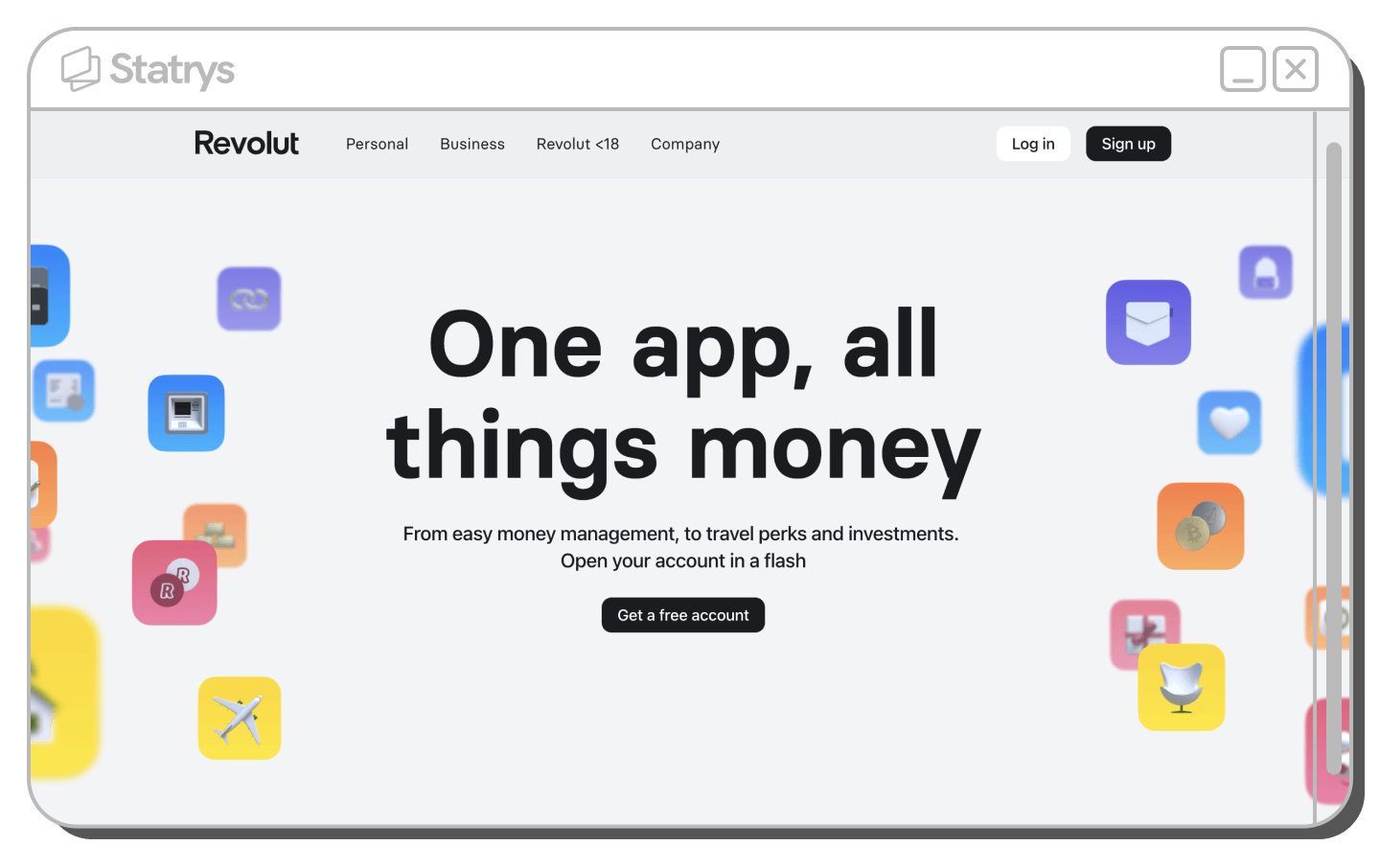 Revolut is one of the top UK-based neobanks, offering various banking services to businesses. Their services include the capability to receive and send local and international payments in multiple currencies, make foreign currency exchanges, and connect payment systems through APIs.
In addition, Revolut offers various business account plans for businesses of all sizes, ranging from freelancers to large-scale enterprises. With Revolut's business accounts, clients can receive, hold, and exchange funds in multiple currencies without hidden fees.
💡 Note: Revolut holds a banking license for the EEA (European Economic Area), which was granted by the Bank of Lithuania, which means that EU client funds are protected under the deposit guarantee scheme.
Key Services Offered by Revolut
Revolut Key Services
Description

Business Account

Send and receive international payments in 30+ currencies with

competitive and transparent fees.

Corporate Cards

Offer virtual and physical Visa and Mastercard®

Global Transfers

Make international transfers with

interbank

exchange rates in 20+ currencies

FX Services

Fixed and flexible dates FX forward contracts for GBP, USD, or EUR up to 12 months in advance.

Financial Insights

Gain actionable insights into your spending habits, analyze trends, and

receive customized financial advice.

Accounting

S

oftware Integrations

Seamlessly integrates Revolut and accounting software such as Xero, QuickBooks, and Sage for users to handle finances.
Revolut Could Be Best For
✅ Freelancers and remote workers. Revolut enables the exchange and holding of different currencies at interbank rates with ease
✅ EU businesses. Revolut is a licensed bank in the EEA, meaning that you can enjoy their services with added regulations.
Discover Revolut's products and fees with our Revolut Business Account Review.
Final Note
By now, you may have a clearer picture of which payment solution provider aligns best with your business needs. It is possible that you need more than one solution to fulfill all your requirements. The key is to weigh out the benefits and drawbacks of each option based on your business priorities.
Ultimately, the effective strategy is to have multiple business accounts.
FAQs
Airwallex is an online payments company used by businesses to receive and make payments in 40+ currencies across 150+ countries.
What services does Airwallex offer?
What are the best alternatives to Airwallex?