Our PayPal Invoice Review Score: 3.75/5
User Interface and Experience: 5/5
What is PayPal Invoice?
PayPal is a digital payment platform that allows individuals and businesses to send and receive money online. While its main features are transferring money, bank connections, and buyer and seller protection, PayPal also offers an invoicing service to its clients.
Paypal was founded in 1998 by a group of founders, including Thiel, Levchin, Nosek, Howery, Pan, and others. PayPal is a leading company as it counts 29,000 employees and has processed over 5.5 billion transactions by the end of 2022.
Paypal offers its services in 200 countries, targeting freelancers, small and medium businesses, as well as large enterprises. However, some features might be restricted in certain countries, so customers better double-check what services are offered in their specific country. PayPal allows people to send money all over the globe, and to pay online by linking a credit card, debit card, or bank account to a PayPal account.
In this Paypal Invoicing review, we will focus on the invoicing software by analyzing its features and pricing to see if they respond to your business needs. We will also rate its pricing, features, user experience, and customer support; however, it is important to note that this score is subjective and can vary depending on the needs of each business.
Pros and Cons of PayPal Invoice

What we like about PayPal Invoice
PayPal Invoice is reasonably easy to use
Security of invoice payments with PayPal's processing
PayPal Invoice is a reliable tool

What we dislike about PayPal Invoice
Fees for international transactions can be quite high
Customization is also limited which is more challenging to match your brand
The reporting features may be lacking for some users
PayPal invoicing is free as it is done through the Paypal account, which is itself free to set up. There is no monthly fees, or invoices limit, as Paypal charges fees on single payments.
While the company advertises this pricing plan as an advantage for businesses as 'you start paying when you start selling', if your business receives payments of large amounts or frequency, the cost of processing payments will be significant. Paypal charges USD0.49 per transaction plus a transaction fee of 2.99% for cards or alternative payments and 3.49% for PayPal payments.
image
For example, should your business generate USD1,000 in sales in 10 transactions, you will pay transaction fees between USD34.80 and USD39.80. However, it should be noted that these fees include payment fees, which businesses generally pay when they receive payment.
PayPal Invoice Fees
Monthly Setup Fees
Zero
PayPal Payments
3.49% + USD0.49 per USD transaction*
Cards and Alternative Payment Methods
2.99% + USD0.49 per USD transaction*
🔎 Note: According to PayPal, the fixed fee varies by the currency received. For international transactions, the fee for receiving domestic transactions applies plus an additional percentage-based fee.
Our Score on Pricing - 4/5
The PayPal business account and invoicing services are free, meaning no fixed cost for a business. While the payment fees are not a small percentage, standard credit or debit card fees are usually similar, meaning that the pricing overall is competitive.
PayPal Invoice Product Features
Paypal Invoice is a service within PayPal's business account. As such, not only can customers create invoices, but also accept payments, transfer funds, and check reports on unpaid invoices and sales.
Billing and Invoicing
Creating invoices with PayPal Invoice is easy. Users can select 'create an invoice' from their PayPal account in the mobile application or desktop to quickly create an invoice.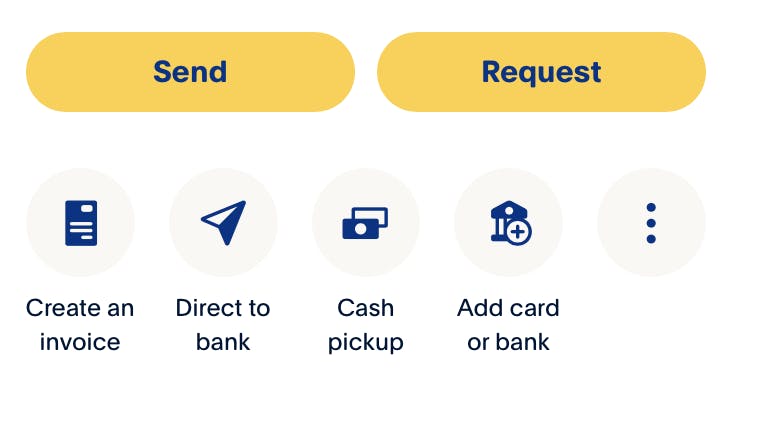 You can create a customizable invoice by filling in information for clients, items, prices, due dates, or any other additional information, though some users may find the customization lacking. After you finish this, the invoice is shown as a preview and then it can be sent immediately or scheduled for a later time.
Once the invoice is sent, users can customize payment reminders which are automatically sent to clients in case you may need to chase unpaid invoices.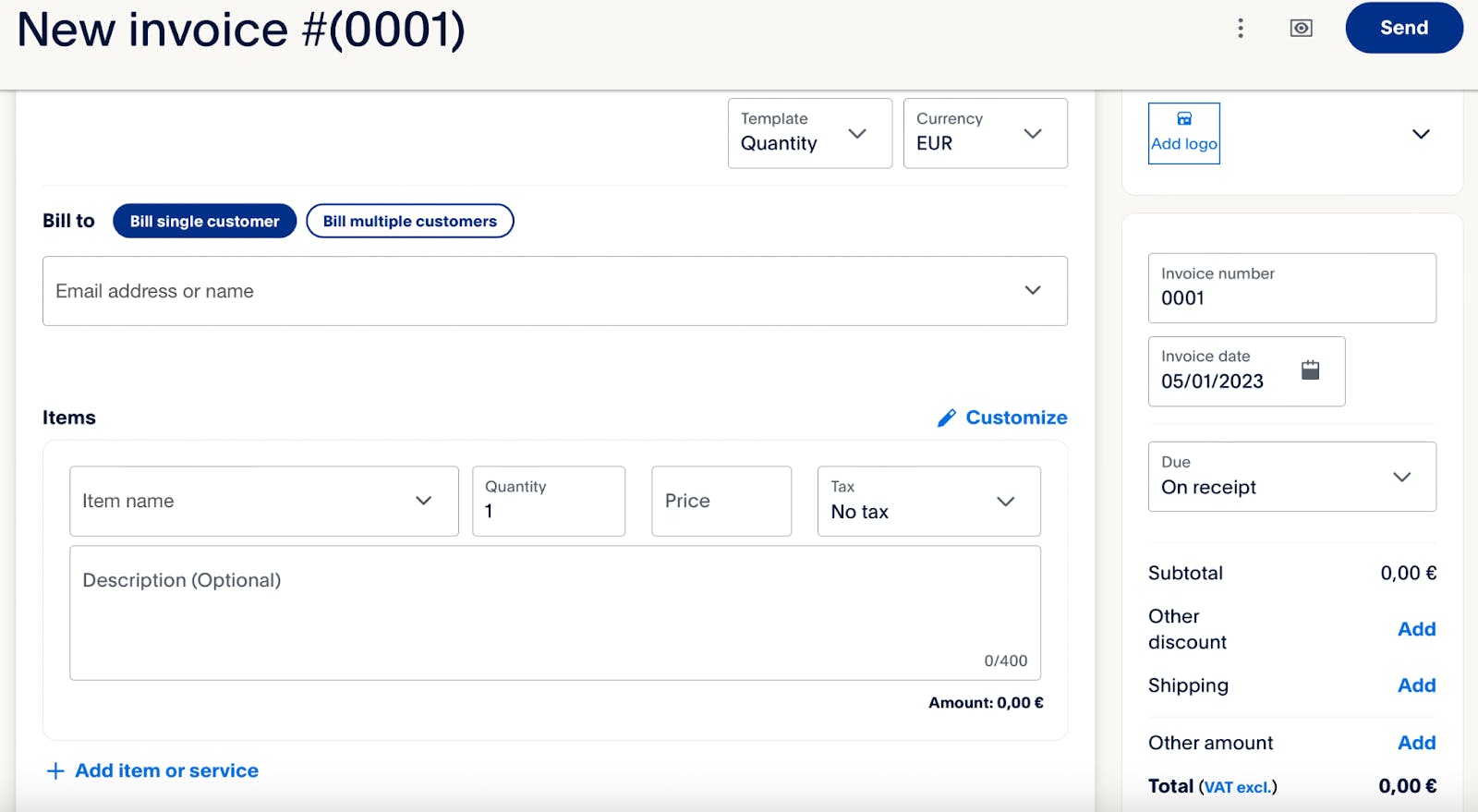 PayPal Invoice allows customers to fully customize their invoices. Customers can upload their company logo or any other images, customize font type and size and add more information. Should you not customize your template, PayPal creates invoices according to the default template.
Moreover, PayPal invoicing allows customers to generate estimates and send them to a client. Estimates are created with the same template as an invoice. Then, they are sent to the client for approval. If the client approves the estimate, it is automatically converted into an invoice.
Accounting Solution
PayPal's main functions are online payments and creating connections to a bank account. PayPal allows customers to get paid quickly as 75% of PayPal invoices are paid within a day. Moreover, it allows users to request money from a client. PayPal also allows customers to ask for a short-term loan through PayPal credit. PayPal Credit offers a 6 monthly loan to meet short-term cash needs.
PayPal shows the latest inflows and outflows of money in the dashboard so that users can visualize the latest cash movements. Moreover, PayPal invoicing allows customers to create a CSV file that contains all invoices generated, that can be exported to Excel. This makes it easier to manage invoices and receivables.
However, PayPal invoicing software does not offer advanced accounting features.
Reporting and Business Intelligence
While PayPal allows the creation of exportable Excel files that can be easily analyzed, the amount of reports that can be generated in the app is limited. Other than the possibility to set up an Excel invoice tracker, users can access business insights, statements, financial summaries, dispute and chargeback reports, transaction reports, and tax documents.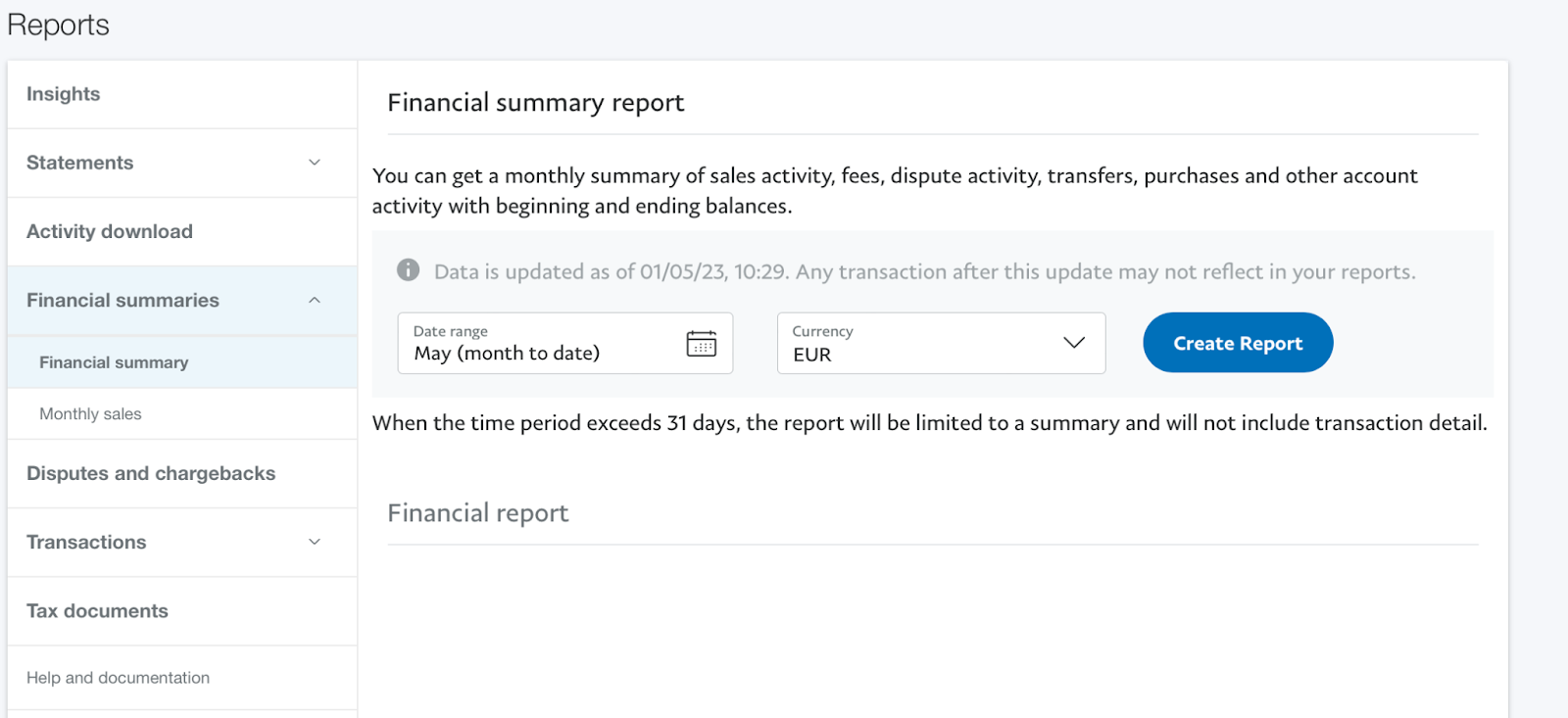 While this is a comprehensive list, the number of graphs and advanced insights that can be generated is limited, and PayPal invoicing mainly relies on external integrations for reporting.
PayPal Invoicing Integrations
PayPal integrates well with some of the most popular tools for businesses including integrations with accounting, eCommerce, marketplaces, in-person payments, and business operations software.
In addition, it can be integrated with Xero and Quickbooks, two leading accounting software that allows small businesses to manage inventory, receivables, payables, and payrolls. Moreover, it can also be integrated with Invoice2go and Recurly to send professional invoices and recurring invoices. PayPal also supports integration with other software such as Zoho, allowing users to link their PayPal account to more services.
As most small businesses use PayPal as a means to get paid faster online and in different currencies, PayPal can be integrated with eCommerce and online marketplaces such as Shopify, Etsy, or eBay to easily create invoices and receive money seamlessly.
Our Score on Features is 2/5
While it is easy to create and send invoices and receive payment, PayPal does not offer many features in terms of accounting, project management, or reporting. While it is possible to integrate PayPal invoices with a large array of third-party services, other software might offer even more integrations on top of better features.
User Interface and User Experience
PayPal Invoicing has a clean and simple look and the creation of invoices or estimates is user-friendly. The complete mobile application saves time as it allows customers to manage their invoices on the go.
As a user, you can find what you need very accessible and rarely look very hard to navigate into sections that you might be looking for. Overall, the platform is easy to use.
 Our score on UI & UX: 5/5
Our score for user experience is 5/5. PayPal has a clean and modern app that is easy to use and understand.
PayPal Invoice Customer Support
PayPal offers customer support through three channels. Firstly, customers can check the FAQs and the help documents online, which is a comprehensive collection of answers to commonly asked question.
In case you may not find an answer to your queries, you can send an email to their support team with the description and supporting information about the problem. Moreover, in many countries, PayPal offers phone-in support from Monday to Friday during office hours.
Our Score on Support: 3.5/5
Customer support is very fast and offers multiple points of access, which is definitely an advantage. On the other hand, if you find yourself unable to solve something outside the support's office hours, for example, during an evening or on the weekend, you will have to wait a bit longer for an answer.
Creating An Account with PayPal Invoice
PayPal Invoice is a service within the general PayPal platform. Users can create an account with PayPal by clicking the signup button on the upper right corner of the PayPal website or in the mobile app.
Users can decide between two types of accounts: personal and business. While both types offer invoicing, the business account is better suited to sellers.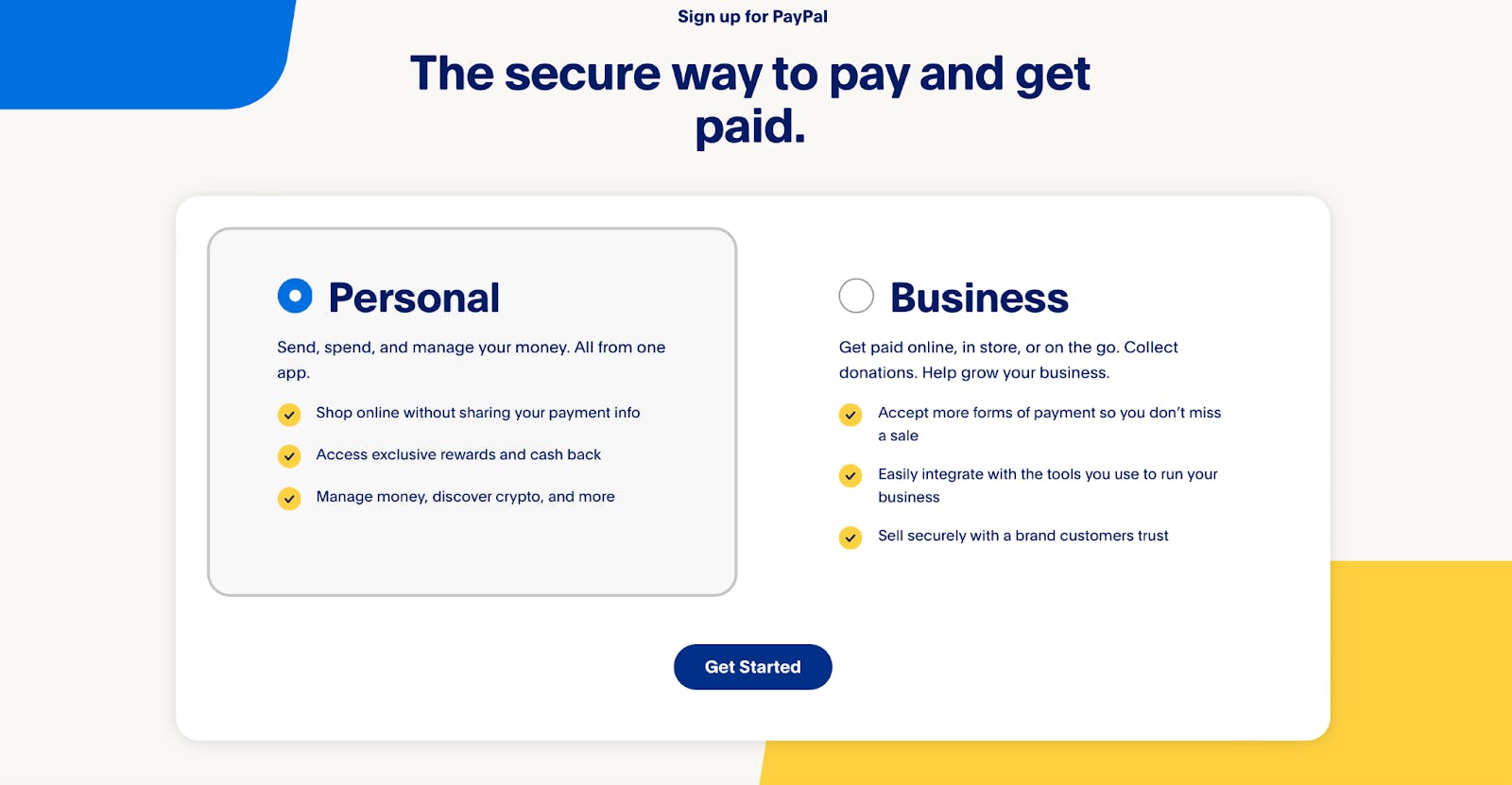 The type of information required for the creation of an account varies between type of account and country. However, users generally need to insert a phone number, their own email and name, and address. In addition to that, more information is required for the business account, such as the business's legal name.
Final thoughts: is PayPal Invoice Enough for your Business Needs?
PayPal's billing service is not a central feature of the PayPal platform. While it is easy to create and send invoices, businesses mostly use PayPal to transfer money, rather than as an invoicing system. That is because PayPal's accounting, invoicing, and reporting features are limited. Other invoicing software is better suited for recurring invoices and to tracking services rendered thanks to time tracking and project management.
PayPal's pricing is competitive, as the app is free. Its price and features are in line with some of the competitors, such as Square invoices, which offers the possibility to send invoices and receive payments for free.
Other software, such as FreshBooks offers more complete features, such as time tracking, expense management, and project management. However, FreshBooks does not offer a free plan, with prices that range from USD17 to USD55.
In conclusion, PayPal invoicing features appear to be more limited than other solutions, while the pricing is in line with other competitors. Customer support is comprehensive and adequate. Another strong point is the user experience, as PayPal Invoicing simplifies the life of its users. In the end, whether PayPal Invoicing ultimately addresses your needs depends on a number of factors.
When To Use An Alternative?
After going through the features of PayPal Invoice, if in case you find that the offering doesn't satisfy some of your requirements, you might want to consider other alternatives.
Here we discuss the main differences between its competitors, FreshBooks, and Square Invoicing.
Payment Methods: PayPal is primarily a payment processing company, so this translates into their invoicing service which can be limiting. These alternatives have more support for other payment methods including bank transfers and integrations with other payment gateways.
Advanced Features: As mentioned in our review, the invoicing features of PayPal are kept to the essentials. However, if you're looking for a more complete business experience from your invoicing tool, FreshBooks and Square Invoicing do offer additional features such as Client Management for better tracking and automation for recurring invoices and expense categorization.
Accounting Needs: If you're looking for an invoicing tool that has accounting features built-in, FreshBooks and Square Invoicing might be better options as they have full-featured accounting features that complement their invoicing features. Whereas with PayPal, you will need to link it up with your external accounting software.
Looking for the best tool for your business is a difficult challenge, so we encourage you to compare the features provided by PayPal Invoice with the alternatives available in the market. Take time to weigh out the priorities so that you can sign up with the tool that will help your business the most in the long-run.
FAQs
How does PayPal Invoice work?
PayPal Invoice is a service that enables businesses and freelancers to make and send invoices through their platform. You just need to sign up for a PayPal account and navigate to the invoicing section where you can create a customizable invoice to send to clients or customers. They can make payments directly using their PayPal accounts or with a debit or credit card.
What are the costs to invoice on PayPal?
How do I create an invoice on PayPal?